William H. "Bill" Harsha Jr. '43 H '75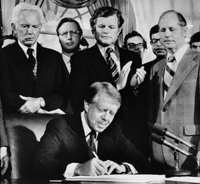 William H. "Bill" Harsha Jr. '43 H '75, of Portsmouth, Ohio, on October 12, 2010, of complications from hip surgery. He was eighty-nine.
Bill joined Sigma Pi. After service in the U.S. Marine Corps during World War II, he earned a law degree at Western Reserve University in 1947.
Bill became an Ohio River-town lawyer and a member of the U.S. Congress. A Republican, he represented the 6th Congressional District for twenty years, starting in 1961. Bill's political career was launched in 1947, when he was elected city solicitor of Portsmouth, in southern Ohio. He won election as Scioto County prosecutor in 1951. He was admitted to practice before the U.S. Supreme Court.
The Washington Post said Bill, in the Congress, "focused on serving the jobs and infrastructure needs of his district but also participated in shaping highway-safety and clean-water legislation." U.S. Rep. Bob McEwen succeeded Bill in the 6th District and told the Portsmouth Daily Times, "He was like a father to me. There's only two reasons people run for office. One is to be somebody ... and the other is to do something. And everybody is a combination of those two. But Bill Harsha was overwhelmingly someone who wanted to do something."
Bill served as ranking Republican of the House Committee on Public Works and Transportation, was elected to the Republican Policy Committee representing four states for the 87th, 88th, and 89th Congresses, and was vice president of the Republican Congressional Committee. He co-authored the Water Quality Act of 1972, the Appalachian Regional Development Act, the Economic Development Act, the Federal Highway Act, and the Omnibus Highway Safety Act of 1973. His legislative initiatives included the Water Resources Development Act, the Federal Water Pollution Control Act, the Clean Water Act, and the Trucking Deregulation Act, among others. He won the compliments of presidents Gerald Ford, Jimmy Carter, and Ronald Reagan. He did not seek reelection in 1980 and became a consultant to transportation companies before returning to Ohio in 1987. Bill retired as president of William H. Harsha & Associates in Portsmouth.
He was active in many community organizations, including the Elks, YMCA, American Legion, Disabled American Veterans, and the Scioto County Tuberculosis and Health Association. He was a sportsman who enjoyed fishing, golf, and hunting.
Bill was survived by his wife of sixty-four years, Rosemary; sons William H. Harsha III, Mark M. Harsha, Bruce B. Harsha, and Brian C. Harsha; six grandchildren; and brother, James B. Harsha. Memorial donations may be made to the Second Presbyterian Church, 801 Waller St., Portsmouth, Ohio, 45662, or the Salvation Army, 1001 9th St., Portsmouth, Ohio, 45662.
Bill Harsh '43 H'75 (upper left), pictured on October 25, 1978 with President Jimmy Carter and Rep. Allen Ertel, Sen. Edward Kennedy, and Rep. Glenn Anderson at the signing ceremony for the Airline Deregualtion Act of 1978.