The Lion in Winters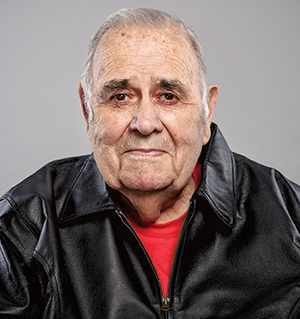 Dozens of toy soldiers stand at attention along the den shelves. Hats on a rack, crowned by an Army helmet, suggest a flock of personas waiting to take flight in the imagination. In the bedroom, model airplanes hang from the vaulted ceiling and a model hot air balloon rises above them.
Up, up and away with Jonathan Winters.
Birthday candles in the shape of an eight and a seven announce his age and are fixed on the mantle in the den of his California home. He burns a cigar with sublime nonchalance, the once elastic voice now a low rumble. Here is the venerable lion of American comedy, still in the hunt for targets to skewer, still purring and growling, still the king.
His classic work was based on satire spoken through myriad characters, and his act was often spurred by random props. A pencil-and-pen set became the handles of water skis, a pair of six-guns, and the horns of a "wood nymph." During a mid-1960s Dean Martin Show, Martin called Winters the "unchallenged master of improvisation" and turned him loose in an "attic" of props. In the 2004 book Seriously Funny, Gerald Nachman includes Winters in his anthology of "renaissance comedians," calling Winters "the Wild Child" and citing his broad sway. "Only Lenny Bruce had as much influence on latter-day comedians, who mainly admire Winters's comic abandon," Nachman wrote. Richard Lewis dubbed Winters "the Jimi Hendrix of comedians."
"I love improv," Winters said. "The whole thing is you're walking a wire. And you can make it or you can fall. But you have to believe that you can make it across."
He's never left the high wire. He cracks wise and inhabits characters in whiplash fashion. His full-time nurse, Amy Husted, has a unique job. "Each day is unpredictable and full of laughter," she said, adding that Winters is "a brilliant, witty gentleman."
Winters, who came to Kenyon in the Class of 1950, lives in a comfortable home in a hillside gated estate in Montecito. In his den, clad in a Kenyon sweatshirt for a recent interview, he sat facing windows that provide an expansive view of the Pacific. A walker is always near, as his legs fail him. The man is surrounded by the toys and the joys of youth. The house includes a cornucopia of collections: the soldiers, Native American relics, baseball memorabilia, model ships and airplanes, and images of the Buddha. Photographs of comedians, celebrities, and politicians blanket the walls. A fresh hobby fostered by a new lady friend has brought a number of dollhouse dioramas into the mix.
His wife, Eileen, died in 2009 after sixty years of marriage and a long battle with cancer. The couple had two children. "She was always behind me," Winters said. She recognized his talent and pushed him to perform. "The first time I heard him talk," she once said, "my jaw began hanging open. Did he make up all those things by himself?"
One-man sketch comedy
Murray Horwitz '70 H'92, director of development at the Washington Performing Arts Society, first heard Winters on an album. Horwitz was among those who prized the gently subversive LP recordings by comedians in the late 1950s and 1960s. "Comedy records were a big deal," Horwitz said. "I knew his recordings, and I committed a lot to memory. I was convinced that he was the way, the truth, and the light."
Horwitz, who was reared in the same corner of Ohio, later championed Winters for an honorary degree at Kenyon that was awarded in 1980.
"There's really nobody who did what he did," Horwitz said. "He came out of radio comedy. What Jonathan did was one-man sketch comedy. He was a one-man band. He did all the characters himself. He not only invented something, he had the technique to do it really well. He's somebody who started something . . . and is also its greatest practitioner."
The comedians Lily Tomlin, Richard Pryor, and, particularly, Robin Williams, a Winters friend, are inheritors. "Jonathan was there first," Horwitz said. The rise of Winters is uniquely American. "You learn self-reliance and you learn how to improvise. It's American ingenuity. He was really my hero, and he went to Kenyon."
Winters was part of the surge of World War II veterans who took advantage of the G.I. Bill and made their way to college. The photo of a smiling U.S. Marine is stapled to his admissions application. His essay reveals his pleasure in entertaining fellow Marines and the sailors aboard the USS Bonhomme Richard, an aircraft carrier that plowed the Pacific, engaging the enemy. Helping others "forget their troubles" lifted his own morale.
That Winters left Kenyon after a year diminishes little his friendship with the College, and he returned for his honorary degree and followed that with appearances during the early-1980s Kenyon Festival Theater, showcasing his command of improvisational comedy.
"Kenyon was a great experience, knowing guys from all
walks of life," he said. "And the surroundings, the buildings are that of a school that has that Eastern look. It's like they've taken a little model, picked it up, and put in Gambier." He joined Delta Kappa Epsilon.
"I loved Kenyon. I had a lot of fun there, maybe too much fun," Winters said. "I had a drinking problem. I felt like a lot of young people and old people who feel the only way to solve your pain is to drink. By the time I got to Kenyon, I was drinking. For ten years I got into the sauce." Those days are gone. Winters has been sober for decades. He also suffered bouts with mental illness and, years ago, was institutionalized, "like cuckoo's nest." His bipolar condition has been well-managed for years.
"I never lost my sense of humor. Humor has kept me going," he said. "But I was cracked. I tell you this because it isn't a question of being a crybaby or knowing that other people have gone through a hell of a lot more. It's just that if there is any kind of message it's that somehow, some way, whether it's through faith or medicine, you've got to help yourself."
In the house of correction
inters is also an artist, a painter of surreal images, one of which anchors the latest cover of his 1987 book of short stories, Winters' Tales. The book reached the New York Times best seller list with stories that recall O. Henry by way of the Twilight Zone. That cover painting is called Light in the Attic; it reflects the mad, mad, mad, mad Winters mind and suggests the anxiety that shadows the man who was awarded the Mark Twain Prize for American Humor in 1999.
"Emerson said something: 'Humor is the mistress of sorrow,'" Winters said. "I could steal that."
He quickly dispels any notion of a good-humor childhood. An only child of divorced parents, he was born in Dayton, Ohio, and mostly reared in nearby Springfield. His father was a banker and his mother became an on-air radio host. "There are parents that correct you and have to correct you. And there are parents that push you into sports or into studies," he said. "And then there are parents who put a sign over my head here, 'I live in the House of Correction.'
"They were constantly on me. My old man said, 'You are the dumbest . . . kid I've ever known.' It stays with you. You have a built-in inferiority complex." A high school algebra teacher embarrassed Winters "in front of a full class," he recalled. "Your old man was right, you are the dumbest . . . kid I've ever seen." Winters turned the insult into motivation. "This is as far as you go," Winters told the teacher after class, "and I'm going to catch up with you.
"It's just that a time comes when you don't want to be stepped on. Do you allow it? You better have something
to say."
He was happy to enlist in the Marines, at seventeen, and believes his parents were happy to see him go. "They cheered."
It was after the war on a return home that Winters crawled into the attic in pursuit "of an old trunk with my soldiers in it . . . walking and on horseback." After a fruitless search that included a stinging lecture on neatness from his mother, Winters learned that the soldiers were given away after he went to war. His mother explained, "How did we know you were going to live?" To Winters, "That was cold."
Sorrow is not much in evidence to fans of the man who used satire and mimicry in stand-up routines and became an improv pioneer. Taking on an entertainment career helped Winters make sense of the world and interpret the follies he saw around him. "I was dying to express my opinion," he said of his formative act in the 1950s.
He describes himself best as a "comedic actor." Winters flirted with a film career, scoring roles in It's a Mad, Mad, Mad, Mad World; The Russians Are Coming, the Russians Are Coming; and The Loved One, among others. He was a fixture on television from its early days into the 1990s. He hosted his own programs, appeared on variety shows, and was familiar to Tonight Show viewers, where he was a Johnny Carson favorite. He took his turn as a regular on the sitcoms Mork and Mindy and Davis Rules, winning an Emmy. He has done commercial work. And Winters still heads to Sony Pictures Studios in nearby Culver City, where he conjures the voice of Papa Smurf for the television animated program Smurfs. "It keeps you up there, even if it is a cartoon," he said. "I like to work."
The observer
haracters seemed to spring fully formed from the mother-ship personality that was shaped in the heartland. Among many, including otherwise inanimate objects, Winters played the redneck, the trucker, the wagon master, the pilot, Babe Ruth, and, of course, in drag, Maude Frickert, the feisty woman with a sharp eye and sharper tongue.
"These people are real," Winters said. "They're real. People laugh. They say, 'Where do you get that stuff?' Oh, come on, just watch what's going on.
"You have to be sensitive, extremely sensitive," he said, discussing the essentials of comedy. "You have to be an observer, an observer of everything. The lenses of your eyes are incredible, the best camera in the world. The thing is, you're the editor. That's when you go in the darkroom and develop what you see.
"I told the truth. As a matter of fact, Groucho Marx once said to me, 'I like you because you're clean and you tell the truth.'" Winters' Groucho imitation is, of course, flawless.
"Hell of a comment," he added. "Groucho was a favorite of
mine anyway."
Marx is joined by the comedians Buster Keaton, Tim Conway, and Lord Buckley on the Winters honor roll. O. Henry and James Thurber are favorite writers. Winters was a stand-up contemporary of satirists Lenny Bruce and Mort Sahl. "It's not that they weren't funny, but I haven't come to the room to be lectured to. Lenny was bright until he got into, 'Hey, you know the feds busted me again?'
"I think you have to come in and just be funny right away. Pick a subject you know." And Winters is off in a backwoods drawl: "You people swim? Where do you swim? In a lake? We don't have a lake. We don't have an ocean. We have a tub. We put crawdads in the tub and swim in it."
His comedy routines and his painting and drawing are inevitably linked. "You have to work like you work a drawing. You work sketches," Winters said. "Art is my first love because we think of improv, movies, plays, but art is something where there is real freedom. You don't have to change it if you don't want to, just to satisfy one person. Art is such an intimate place to hide. It's a place to be by yourself."
After Husted drove Winters and a guest to lunch at Sly's, a nearby seafood-and-steak establishment, Winters settled into a wheelchair outside the restaurant and nailed an instant comedic riff as Franklin D. Roosevelt, on wheels, declaring war.
If Winters has been little seen on television and movie screens in recent years, he remains a famous face. While dining on his double order of escargot, he was twice interrupted by well-meaning fans. He prefers a more polite, excuse-me approach but warmed to the attention. "It's like this all the time," Husted said.
Winters considered the lives of his Kenyon acquaintances, fellow veterans, comedians, and actors, marveling at his longevity and longing for new marvels. "My friends are all gone," he said. "There's nobody to play with. I'm working on a book, and the title is going to be In Search of a Playground."