The Hot Sheet
Kerry, Coffee, Kate, and six other things we love about Kenyon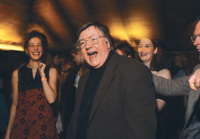 Fandango.The senior-faculty dance, a longstanding Kenyon tradition, was held in late February. Professors including Royal Rhodes of the religious studies department (pictured above) danced to the music of the T.J. Lewis Blues Revue, a band featuring his departmental colleague Vernon Schubel.
Traffic Signals. The Zeta Alpha Pi sorority sponsored a stoplight party just before spring break. Students who were unabashedly available wore green, those who wanted to dance but already had a relationship donned a warning red T-shirt, and those with a "complicated" romantic situation (which 114 Kenyon students currently claim on Thefacebook.com) wore yellow.
John Rinka '70. Rinka, one the great figures in Kenyon sports history, was honored as an inaugural member of the Ohio Basketball Hall of Fame. An induction ceremony, attended by Kenyon alumni and members of the administration, was held on May 20 in Columbus. Rinka is the Lords' all-time scoring leader, with 3,251 points, the seventh highest career total in NCAA history.
Coffee after Hours. Student volunteers run the AfterHours Coffee House in Weaver Cottage four days a week from midnight to 2:00 a.m. In addition to providing beverages and light food, the coffee house donates proceeds
to New Directions, the local domestic abuse shelter.
The Importance of Being Kate. Of the 229 graduating women in the Class of 2006, twenty-two of them (roughly 10 percent) had a variation on the name of "Kate." (Of the 168 men, none was named Philander.)

John Kerry. The U.S. senator presented the Commencement address at Kenyon's 178th graduation ceremony, held on Saturday, May 20. To read his speech, visit the Web at www.kenyon.edu/kerryspeech.xml.
The Price Is Right. During a breather from spring-break tournament games in California, members of the Ladies softball team attended a taping of The Price is Right, where junior Sara Schoenhoft answered the call to "come on down." She succeeded in a game called Side by Side and headed home the winner of a hot tub.



Stitch 'n' Bitch. Needles are clicking comfortably around campus, as knitting has become popular with Kenyon students. There's even a coed knitting club called Stitch 'n' Bitch, a title taken from a popular knitters' handbook.
Do you have feedback on this page?