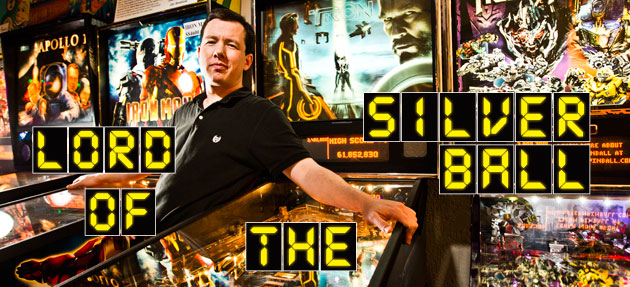 Andrei Massenkoff '95 was barely old enough to walk when he started to flip. He's been crazy ever since—for pinball.

Massenkoff was "three or four" when his father would place him on his belly atop the glass covers of pinball cases so the fledgling wizard could reach the flippers and rocket the metal ball through the electronic playfield of bumpers, bells, and blinking lights.
Those early childhood experiences stirred a lifelong passion for the arcade game that burned brightly during his Kenyon years and culminated late last summer in Pittsburgh, Pennsylvania, when the San Francisco schoolteacher won his first World Pinball Championship.
In the annual Professional and Amateur Pinball Association shootout, Massenkoff claimed the crown—and a $10,000 prize—against an international field of nearly 500 competitors, including about eighty qualifiers in the World Championship "A" division. "It's kind of neat to be able to say you are the best in the world at something—anything," said Massenkoff, who provides K-12 education for patients in the University of California San Francisco Benioff Children's Hospital school program.
Massenkoff was a religion major who sharpened his skills in the game room at Gund Commons. "All those hours at Gund helped me win this title," he said. "I played as often as I could and sometimes wonder how many GPA points it cost me."
When it came to pinball, Massenkoff was the big man on campus. "It was a humiliating experience to play with him, but you got to see what was possible," said Jeremy Williams '96, also of San Francisco, a Gund Game Room regular at the time who still plays with Massenkoff. "He learned the tables, had super-fast reflexes, and was driven to win. I remember one time he drove all the way to Akron to play a new machine that just came out. That's when I knew he was pretty hard-core."
The early- to mid-nineties was the last golden era for pinball before its popularity waned in the wake of the advent of video games. Today no pinball machine remains on campus, but back then Gund was a hotbed of activity. Pinball revenues helped furnish the game room and pay employees. The flashiest, most sophisticated machines rotated in and out, attracting top-notch recreational players such as standout soccer goalie Marshall Chapin '94, who taught Massenkoff how to jockey the machine without tilting. "It's a technique I still use today," Massenkoff said.
Massenkoff entered his first world tournament in 1994 at the suggestion of the vendors who leased and maintained Gund's machines. "It took me seventeen years to win," he said. "I feel lucky and relieved." His ascendency to the pinnacle of the pinball world demonstrates to him the value of a Kenyon education to prepare students for any pursuit, big or small. "It taught me how to break down a machine, strategize, and make adjustments on the fly," Massenkoff said. "Believe it or not, pinball is a rigorous mental activity."
In four days of qualifiers and playoff rounds, he supplanted the three-time defending champion on machines chosen by tournament officials and configured with a high degree of difficulty."I just kept reminding myself to play my game as if I were in a bowling alley or arcade," Massenkoff said.
On the circuit, Massenkoff is known as an "on the fly" shooter: in multi-ball segments, he prefers to play several balls simultaneously instead of playing one ball at a time while trapping the others. The chaotic approach contrasts sharply with an otherwise low-keyed lifestyle that often includes retreats at a Big Sur monastery. "I sometimes wonder if I could be a better performer if I tried to control the ball more,"
he said.
While Massenkoff sadly concedes that pinball is a dying art, he competes in a Thursday night Bay Area Pinball Association league and practices up to ten hours on some weekends, often at the Pacific Pinball Museum in Alameda, California. "I spend way too many hours playing pinball," he said. "More than anything else, that's what sets me apart."