The Master Blaster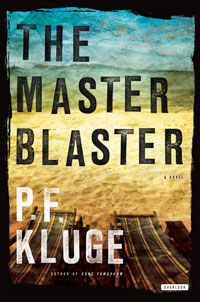 George Griffin is a burning-out travel columnist who needs to get away to ponder his failings and his future.
Stephanie Warner is a college professor-turned-administrator extricating herself from a bad marriage. Mel Brodie, a savvy real-estate operator, is distancing himself from a deal-gone-bad and potential legal trouble. And Kahn, a Bangladeshi villager, is seeking to escape poverty and find a better life.
Four people fleeing, and searching. They all arrive—on the same flight—in Saipan, the American Commonwealth island in the Pacific. Their stories unfold and entwine in
The Master Blaster
, the latest novel by P.F. Kluge '64, Kenyon's writer-in-residence.
It's an astute, well-told tale with larger social resonance, because another main character here is Saipan itself, vividly, knowingly drawn, a paradise scarred by a history of conquest and near-genocide, by fierce fighting in World War II, and finally by sleazy commercialization. Representing the island, in a sense, is The Master Blaster, a longtime American expatriate and retired poet-teacher who, in his old age, is secretly publishing a Web site that angers the local politicos by exposing corruption.
Conflict, drama, and mystery enter the plot early. Griffin runs afoul of a visiting Congressman who then suspiciously falls to his death from a hotel room. Kahn and three fellow overseas workers are spirited off to virtual slavery, then find a way to light out on their own. Opportunity knocks for Warner, who takes a community-college teaching post that quickly turns into something far more ambitious; and for Brodie, who hits on the idea of developing a retirement community that he'll market to nostalgic veterans.
The fresh arrivals find themselves drawn to the island—drawn, as well, to their better selves—but also drawn into entanglements in which renewed hope blinds them to danger. This "beat-up, half-beautiful" spot awakens "the old dream of islands," the enticing possibility of starting over, of "another chance, a new discovery, a possible life." One of the thematic engines in the novel is the tension between this hopefulness and the hard realities of a place that runs on gambling, exploitative garment factories, prostitution, and secretive family connections—an insular place, figuratively as well as literally, where one never really knows who owns the land and who calls the shots. A place, above all, where things—and people—aren't what they seem, so that good intentions can have unintended consequences.
Pursuing their island dreams, Kluge's characters enact versions of the American dream as well. Saipan, indeed, reflects a good many currents of American culture, from its stew of immigrants to its "vulgarity without limit."
The Master Blaster
is in this sense an exploration of American innocence and ambition.
Kluge has a gift for capturing the subtle resentments and accommodations linking outsider and insider, tourist and native, different social classes. A seasoned Pacific traveler who first discovered Micronesia as a Peace Corps volunteer, he also deftly conveys both the surviving splendor and the modern shoddiness of the islands. Lingering always, though, is affection—and a conviction, or at least a hope, that, as one of the Saipan old-timers puts it, "a place belongs to people who love it."
—
Dan Laskin