The Hot Sheet
Paint, Pageants, Paradise, and six other things we love about Kenyon

Pageants. A little-known tradition continued during Philander's Phling weekend in February when Jake Miller '09 and Leslie Parsons '09 were crowned Mr. and Ms. Kenyon in a mock-pageant that included on-stage interviews with contestants. Kirk Johnston '86 was crowned the first Mr. Kenyon in 1985. With each question-and-answer interview in the years since, we've come one step closer to world peace.
Meditation. Between five and fifteen students meet on Tuesday and Thursday nights at the Fink House to relax their minds and bodies during thirty minutes of silent Zen meditation led by Ben Taylor '07. Shhhh!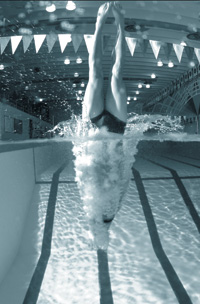 Swim Champs. March was sweeps month for the swimming Lords and Ladies. The Lords brought home their twenty-eighth consecutive NCAA Division III national championship. The Ladies, who had finished second in 2006 and 2005, returned to the top spot on the winners' podium. The Ladies have captured twenty-one of the last twenty-four championships.
Wild Wellies. Women are turning heads with funky florals and striking stripes in updated versions of traditional Wellington rubber boots. The boots are practical for muddy Middle Path and a welcome relief from somber shades of green.
Paradise Lost. A marathon reading of Milton's Paradise Lost, lasting nine hours and three minutes, brought sixty-two different reciters to Ascension Hall in February. Organized by Lauren Reiter '07 and Liza Neustaetter '07, the epic event drew parents and community members as well as students and faculty. The "Invocation to Light," as read by Associate Professor of English Adele Davidson '75, elicited applause heard on Middle Path. For anyone tempted to emulate the human characters, apples were provided.
Shifting Gears. Cycling enthusiasts brought their bikes indoors and strapped them into rear-wheel training devices in "Spinervals" classes at the Kenyon Athletic Center this winter. Video workouts had students and others shifting gears as they took on pedaling challenges that sometimes surpassed Knox County's hills in rigor. Talk about a road to nowhere.
KAC Heads. That's the name of a new club created by James Wendt '10 to encourage school spirit at sporting events held at the Kenyon Athletic Center (KAC). Wendt hopes he can reach out to the local community as well and organize sporting camps and clinics for children. Pass the spirit stick!



Pelting Paint. Twenty-one students pelt each other with paint as part of the Paintball Club, formed by Joel Beckett '08. In local woods and in Columbus, Ohio, participants eliminate opponents by hitting them with capsules fired from "paint guns." Warning: Play only in a well-ventilated area.
Stuffing Bras. The Crozier Center for Women sponsored a "stuff your bra" campaign to raise money for Breast Cancer Action. Students formed sewing circles and stitched bras into purses with plans to sell their creations. Kirsten Reach '08 developed the purse design, which she calls a "signature feminine item." There are currently no plans to burn the purses.
Do you have feedback on this page?