Tenacity, with a Contemplative Streak
A Kenyon football standout with a taste for political philosophy, Zack Space '83 now represents his alma mater in Congress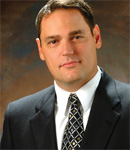 Chatting in his Congressional office on a chilly evening in late January, while waiting for the next round of votes to be called, Democratic Congressman Zack Space '83 sounds intimately aware that, just a few months earlier, he was a small-town lawyer in his hometown of Dover, Ohio, who had never spent more than a few days apart from his wife and two children.
"I went from working out barking-dog issues in Dover to making decisions about the future of Social Security and our involvement in the war," says Space, who occupies the office that John F. Kennedy had when he served in the House of Representatives. The freshman congressman, whose district includes Gambier and his alma mater, relishes the new challenge and is determined to meet it with diligence and focus.
"I'm not going to allow myself to be overcome by the awesome responsibility," says Space. "I have an obligation to the people who put me here to stay focused on their issues and do what I think is right. It's like, if you're on a tightrope a thousand feet above the ground, it would be real easy to become focused on the ground and become petrified. But I'm staying focused on that tightrope, and I'm doing what I think I have to do."
The first thing he had to do, after winning the 2006 election in a district formerly represented by the corruption-tainted Bob Ney, was manage the transition from his post as law director in Dover (population: around 12,500) to his place at the center of the nation's political life. There was a week-long orientation program, an introductory seminar of sorts led by veteran House members. And there was the vital business of setting up an office and staff. In addition to his Washington office, with seven staffers, Space maintains a district office in Dover and is establishing two other district offices to meet constituent needs.
He chose a seasoned Capitol Hill aide, Stuart Chapman, as his chief of staff. The congressman will draw on Chapman's experience and institutional knowledge as he masters the art of crafting legislation and securing federal dollars for his district, which sprawls across east-central and southeastern Ohio. Chapman will also undoubtedly help Space deal with political realities ranging from the clamor of lobbyists--from whom he refuses to accept money--to the priorities of the new Democratic House leadership.
Meanwhile, Space hopes to advance the issues about which he feels passionate. One is stem cell research, which he views as holding the potential for medical breakthroughs. His support for research goes beyond his public-policy convictions; Space's son, Nicholas, fifteen, has juvenile diabetes. The congressman also backs the development of alternative energy sources, which he believes offer foreign-policy, environmental, and economic benefits.
A third-generation American and the grandson of Greek immigrants--he quips that he may have the shortest Greek name around--Space combines tenaciousness with a contemplative streak, both qualities that were fostered at Kenyon. He made his mark on the Lords football team as a star defensive lineman who consistently piled up tackles, quarterback sacks, and fumble recoveries. Named to the Ohio Athletic Conference all-star team three years in a row, Space was Kenyon's leading tackler in both his junior and senior years. In 1982-83, his senior year, he cocaptained the team, was chosen most valuable player, won the senior athlete of the year award at Honors Day, and received honorable mention on the Division III all-America football squad.
At the same time, as a political science major, he developed an interest in the intellectual undergirding of American democracy. He still likes to sit around and talk political theory and economic philosophy, he says. "The people I'm normally around think I'm crazy," laughs Space.
After graduating, the football star with the philosophical bent earned his law degree at Ohio State University and then started a law practice with his father, Socrates, in Dover. Space & Space was his professional home for twenty years. But with an eye toward public service, he served on the county Board of Mental Retardation and Developmental Disabilities. He won election as Dover's law director in 2001 with 70 percent of the vote and ran unopposed in 2003.
Space's successful run for Congress in 2006 reflects his competitive nature. The Democrats originally had others in mind to take on Ney, a once unbeatable candidate who got himself entangled in the scandals associated with lobbyist Jack Abramoff and Congressman Tom Delay, and who ultimately withdrew from the race, facing charges of bribery. But Space jumped into the field, beating three other Democrats for the nomination and then decisively dispatching State Senator Joy Padgett, the Republicans' last-minute replacement for Ney. His campaign attracted a spirited group of supporters in Gambier.
Beyond the challenges of his new position, Washington has been a personal adjustment for Space. Now, it's mainly on weekends that he gets back to Dover to see Mary, his wife of twenty-one years (and an elected municipal court judge), and their two children--besides Nicholas, they have a daughter, Gina, seventeen. During the week, he shares a Capitol Hill apartment with fellow freshman congressman Michael Arcuri, a New York Democrat, having discovered that housing costs in Washington, D.C., made it impossible to rent a place alone.
But he's very much focused on the job, and he intends to seek re-election. He'll be far from a shoo-in: Republicans significantly outnumber Democrats in his district, and in 2008 the GOP won't be hobbled by a scandal-plagued candidate.
Space trusts that he can counter the challenge by building a reputation for hard work and integrity. "There are varying degrees of passion on the House floor," he says. "But I guarantee you, nobody on that floor has more passion about what he's doing than I do."
Do you have feedback on this page?