Beyond the Buzzer
Lords basketball star Shaka Smart '99 plays bigger arenas now, as a coach at Clemson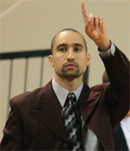 The intensity of big-time college basketball involves much more than the steals, fast breaks, and slam dunks on the court.
Beyond the buzzer, there's practice, strategy, analysis. There's team chemistry, which has to be forged from a collection of sometimes difficult personalities. And there's recruiting, a highly competitive game in itself, part science, part art, part charisma.
In other words, there's coaching.
That's where Shaka Smart '99 is carving out a career. Kenyon classmates will remember Smart for his exploits as a player in Tomsich Arena. But this past winter, TV audiences could see him at work on the sidelines in a much bigger realm.
As an assistant coach for the Clemson University Tigers men's basketball team, Smart tests his skills in the fabled Atlantic Coast Conference, known for teams like Duke, North Carolina, and Wake Forest.
Smart loves it. "I have a competitive nature, and I want to coach at the highest level I can," he says. "I like that the game is such a big deal, with all these people watching and waiting to see what our team does."
Smart works as one of three assistants under head coach Oliver Purnell--in fact, at thirty he may be the youngest assistant coach in the conference. His responsibilities include coaching practices, watching endless hours of game footage to pinpoint opponents' strengths and weaknesses, and traveling around the country to scout high-school talent and sing Clemson's praises. On game nights, he's an integral part of the sideline staff, jotting notes, pulling aside players to give direction, and joining in time-out huddles.
The challenges include dealing with players who come to Clemson, a Division I school, with expectations very different from what Smart experienced at Division III Kenyon. "At this level," he notes, "each player arrives with NBA aspirations. But the reality is that we're trying to put a team together, where each player is willing to play a role--and, unfortunately, everyone's can't be the glamour role."
This past season, Smart's first with the team, also presented a challenge in the form of dashed hopes. Clemson started off with a 17-0 run, going longer than any other Division I team in the country before losing a game. Then they stumbled, losing nine of their last thirteen regular-season games. Instead of landing an invitation to the Big Dance, they had to settle for a spot in the National Invitational Tournament, where they succumbed to West Virginia in the finals, 78-73.
It was painful to watch the team's ups and downs after such a promising start. But, all in all, says Smart, "It was a really great ride." He notes that the team produced twenty-five wins, tying a school record.
As recruiting coordinator, Smart can draw on the example of former Kenyon head coach Bill Brown. Smart was a talented high-school player in Madison, Wisconsin, who was being recruited by both Harvard and Yale when Brown showed up and made a little college in Ohio sound appealing.
"He is the best recruiter I've ever seen," says Smart, who had never heard of Kenyon. "He has the best people skills of anyone I've ever met.
He relates to everyone. And he was great with parents."
Smart thrived at the College, both on the court and in the classroom. A four-year starter and three-year captain, he set Kenyon's assist record for both a season (184) and a career (542). Among his many awards: North Coast Athletic Conference scholar-athlete of the year, a spot on the USA Today All-USA academic team, and an NCAA postgraduate scholarship.
A history major, he graduated magna cum laude. He owes a lot, he says, to Peter Rutkoff, currently the Robert A. Oden Jr. Professor of American Studies. Rutkoff was an academic mentor, and more. Smart, who has been estranged from his father since he was seventeen, calls Rutkoff "the closest thing to a father I've had in my adult life."
After Kenyon, he followed Brown to California University of Pennsylvania, where he worked as an assistant coach and earned a master's degree in social science. He went on to stints at the University of Dayton and the University of Akron, where he became associate head coach and helped lead the team to a stellar 2005-06 season. "Shaka is one of the best young coaches in the country," Akron head coach Keith Dambrot has said, noting Smart's "unbelievable work ethic."
The work ethic is very much alive and well at Clemson. Smart has been known to stay up until 3:00 a.m., reviewing game tapes, only to report to work at 6:00. He keeps a personal journal devoted to his coaching and recruiting experiences. The analytical part of the game, he knows, will be vital once he becomes a Division I head coach himself--and that's his goal.
"I love the camaraderie of coaching, and the building of character, the building of a team, the sacrifice for something bigger than yourself; that's why I coach," says Smart.
He adds, "Winning is good, too."
Do you have feedback on this page?