A Quest for Higher Meaning
A religious thread is woven into the Kenyon experience, even as students question their faith and sort out the mysteries of life.
What's cooking in the Parish House? On this Tuesday evening, pasta, tomato sauce, and a taste of religious community.
Surrounded by a gaggle of students and seen through a cloud of steam, the kitchen maestro is the Rev. Karl Stevens '95, assistant rector and, thanks to an endowment to the Episcopal Diocese of Ohio, the college chaplain at Harcourt Parish.
Stevens stakes a spiritual claim on what he calls the night campus, when College offices are closed, most faculty members are safe at home, and students ponder their next moves.
"The question is, 'How do we reach them?'
"And how do we help them do the things we must wish for them to do, which hopefully they wish for each other and themselves?"
The weekly Tuesday night dinners are an exercise in faith, hosted by Stevens and the Canterbury Club. Four or five students, with Stevens directing the kitchen traffic, prepare the meal, which is open to all comers. A short presentation or speech by a professor or other guest caps the evening.
About twenty-five young men and women trickled in for the 5:30 p.m. dinner on this night, first forming a circle from which they introduced themselves and mentioned a blessing, happy event, or accomplishment that marked their week. The upbeat notes touched on a roommate's birthday, a paper that was completed, and a breakthrough understanding of a relationship with God ("I'm not alone.").
The students in Canterbury Club are one incarnation of religious life at Kenyon, where the intellect and the soul are fellow travelers. Clergymen, professors, and students draw a spiritual sketch of the Kenyon student as seeker, more open-minded than in the past, not much inclined to formal worship, and curious about the religious experiences of others. Spiritual quests here take many forms.
The number of religion-themed student organizations has grown over the years, to ten approved for the 2007 fall semester, from two in 1967. Bible study groups, Quaker meetings, and Zen Buddhist meditation add to the diversity. Religious studies professors often play to a full house. Stevens sees more students in his Church of the Holy Spirit than he remembers seeing during his own undergraduate days.
On the other side of the aisle, the Allied Skeptics of Kenyon, a club of agnostic and atheist students, sprouted this year. And this is the campus where--according to a survey of first-year students in the fall of 2004--most students do not pray, just a shade over half believe in God, and 82 percent think most people can grow spiritually without being religious.
Survey results arrived in a 2004 report, Spirituality in Higher Education, prepared by the Higher Education Research Institute at the University of California, Los Angeles. Kenyon students were among 112,232 first-year students at 236 colleges surveyed. At the national level, most college students do pray, almost 80 percent do believe in God, and 64 percent say people can grow spiritually without being religious.
Are Kenyon students less in touch with religion than their peers around the country, or are they on a more refined quest to explore the metaphysical?
"Somehow, it has to do with why people choose to come here," said Vernon Schubel, professor of religious studies and department chair. "They choose this environment because it seems tolerant of their secularism and their religion. We get students who believe in God, and we get students who don't believe in God.
"Kenyon is a place where both belief and non-belief are tolerated because I think there's a recognition that we come here in order to learn and in order to grow."
Sorting out the difference between spirituality and religion helps to shed light on the relationship between students and their sense of a higher power. The Rev. Donald Rogan, professor emeritus of religious studies, a former Kenyon chaplain, and, at seventy-seven, a practiced counselor, has little use for the word spirituality when it stands alone.
"(Spirituality) focuses solely on what the individual potentially does for him- or herself, and religion is a mixture of what you can do for yourself and what can be done to you and for you by God, by influences of various kinds, by traditions, by all sorts of things," Rogan said. Religion, he said, forces people to develop and extend themselves in ways that mere spirituality does not.
Finding a Community in Service
The spiritual journey of Stephen Robishaw '09 has led him, at Kenyon, to a new embrace of religion. The twenty-one-year-old Monroe Falls, Ohio, resident arrived at the campus as a Roman Catholic and a baseball recruit. The sports experience soured in his second year, and he found himself adrift until he heard about Canterbury's Tuesday night dinners, a staple since 2001.
"I was looking for a welcoming place," he said. "They didn't care who I was. They just cared that I was a student looking for some help, and they helped me out, and I've been involved ever since. It's cool." The club's service-oriented emphasis suited Robishaw. Before the recent dinner in the Parish House, he was applying scissors to construction paper, making posters to promote a money-raising project for global clean-water development through UNICEF. Club members also provide tutoring for disadvantaged children and volunteer at a hot-meals program in nearby Mount Vernon.
"Having such a firm social-justice agenda, we're putting forth the message of Christ that we must include all people in our faith," he said. "We're not a large community, but it doesn't mean we can't contribute."
Robishaw was received into Episcopal membership in the spring of 2007. Stevens has been a steady influence.
"Karl talked about his own faith journey, and I thought it was interesting that a guy was willing to speak in front of a group of people and be vulnerable in that way," Robishaw said.
The once-rebellious son of a Methodist minister, Stevens, thirty-six, has trod a spiritual path that has taken him from teenage atheism, to the pursuit of mysticism, to a senior-year visit to the Church of the Holy Spirit, where he was smitten by the beauty of the Episcopal liturgy.
After graduating, the Wisconsin native became an AmeriCorps volunteer, worked at a food bank, and then entered a seminary. He returned to Gambier as a priest in 2003 and set up shop in an office in the church basement.
His office walls are decked with photos from what he believes has been the "best thing" he initiated since his return: the visits of Kenyon students to hurricane-torn New Orleans for hands-on volunteer reconstruction work.
Stevens believes religion has a more public and accepted face, with greater Sunday attendance in church now than when he was a student. The terrorist attacks on the United States on September 11, 2001, sparked some religious revival, he said.
"It's really fascinating, because I think that if you'd ask a lot of students what is the take on religion at Kenyon, they would say many people aren't really religious, there isn't a lot of belief in God, it's a secular place," Stevens said. But the recent survey indicates a glass half full to him when it comes to belief in God (50.3 percent).
"That's a lot more than I thought … and a lot fewer out-and-out atheists (17.4 percent) than I would have imagined."
Students said they find spiritual meaning in art, music, and nature. That heartens Stevens, who believes that service projects, concerts, and activities at the Brown Family Environmental Center all provide students with extra opportunities to consider "the deep questions about the meaning of life."
A discussion of religion on campus during first-year orientation was added this year as an aspect of campus life, a sign, Stevens said, of fresh interest in religion among incoming students.
Stefanie Wilson '08 addressed religion during orientation. The twenty-two-year-old native of San Juan Capistrano, California, said the context of her remarks was "taking care of myself while at Kenyon."
"Since coming to college, prayer has become a lot more important in my life," she said.
Wilson is a lifelong Episcopalian, a religious studies major, and a member of the Canterbury Club. When she arrived on campus, she figured she had at least temporarily left religion behind with her family. While that remains true of some of her friends, Wilson longed for a sense of community. "Religion provides … a group of people I can talk to about things in my life in a very safe way."
Thinking Critically About a Supreme Being
Almost 62 percent of Kenyon students found themselves disagreeing with their parents about religion in the year the survey was taken, topping the national number by 10 percent. That fits Alison Fisher '08, who is a founder of the agnostic and atheists club. The twenty-one-year-old was reared in a Presbyterian family in Rochester Hills, Michigan.
"I've been going to church my whole life," Fisher said. "I went back at Easter … and the minister was talking about how death was the great enemy. And I thought, 'Is death really the enemy?' It just happens. It's a part of life. That's the nature of being on earth. And after you die? Nothing."
Fisher began calling herself agnostic after she arrived at Kenyon, and sees no evidence of a supreme being. "I guess I really am an atheist," she said. "So being in college made me more of a critical thinker."
She sees few signs of religious activity on campus. "We don't have a lot of vocal people."
The club is an opportunity to bring like-minded thinkers together and explain agnosticism and atheism to others.
Molly Schlemmer '08 helped Fisher form the agnostics club. The twenty-one-year-old Gambier resident attended the First United Church of Christ in Mount Vernon as a child and showed renewed interest in the seventh grade, when attending church was important to fitting in with peers.
The social landscape changed at college. "Most people just don't talk about it," she said. "I'm in college. My parents are religious, and I don't need to be doing that now.
"And no one makes a big deal if you are religious. We're very open-minded."
Religion remains an element of her social life, however. She has played a leadership role at Kenyon Hillel, where she often joins Jewish friends at social events. "One of the tough things about Hillel, and about spirituality in Kenyon in general, is getting people involved," Schlemmer said.
From his perspective as Hillel director and Jewish chaplain, Marc Bragin sees a national trend toward religious attentiveness on campus. The number of Hillel directors and other informal Jewish educators on college campuses has become "much more widespread" over a decade, he said. And the questions posed by "amazingly brilliant and analytical" Kenyon students keep Bragin at the top of his game. "They're going to challenge me."
Bragin is embarking on a two-year tour as director of the Board of Spirituality and Religious Thought, a group that usually meets monthly and supports religious life at Kenyon. The panel includes clergy, an assistant dean of students, and student representatives. The board plans programs, helps pay for projects proposed by religious groups, and encourages spiritual growth.
The panel was called the Board of Campus Ministries until Bragin became director this school year. He proposed the name change because the former name carries a Christian connotation and because it may have alienated some of the spiritual seekers on campus.
"Let's be more accepting and more open," Bragin said. "As director, I need to worry about the entire campus.
"There's a lot of interest within religious life from incoming students," he said. "Students ask about religious life on campus. It's okay to talk about God. It's okay to talk about why you're here."
Religion is one piece of the identity puzzle being shaped by students, Bragin said. "That piece is going to move depending on who you are, and that piece is going to play a larger part of your life sometimes and sometimes a smaller part.
"And I want to give you the tools to enable you to move and change the puzzle piece, to give you enough knowledge to make reasonable choices about who you are."
Religion as a Field of Study
The search for higher meaning has brought more students into the classrooms of the Department of Religious Studies. The faculty jumped to six from two between 1964 and 1973--at least partly, according to Rogan, the product of the burst of interest in comparative religious study spawned by the counterculture romance with Asian religions. The list of instructors in religious studies now numbers eight, which accommodates sabbaticals and includes Rogan, who teaches one course a year.
"This kind of expansion of religious studies occurred throughout higher education in this period," Rogan said. "Kenyon was unique in being the first church-related, liberal arts college to offer Jewish studies (1967)." Eastern religions arrived in 1969 and Islamic studies in 1971--"fairly unusual at the time."
Schubel teaches "Classical Islam," a course that attracted twenty-six students in the fall semester, among 259 students enrolled in fourteen fall courses. "These are kids who are really interested in understanding religion in all its diversity," he said.
When Royal Rhodes joined the department in 1979, an introductory course in world religions attracted about eight students. "Now, we're pretty much over-enrolled, and that's wonderful. In some sections of ["Introduction to the Study of Religion"] we try to cap it at eighteen or twenty, and we'll have thirty," he said. Rhodes's course "Meanings of Death" has drawn as many as 120 students. He capped the course at forty, but it still fields as many as fifty.
"When I first came here, a significant number of students thought the academic study of religion was unfaithful to their own religious identity," said Rhodes, the fifty-five-year-old Donald L. Rogan Professor of Religious Studies. "We've been doing a really good job of addressing that. If you have faith, it can stand up to any questions. And I think a place like Kenyon has, by and large, been much more open to questioning."
Many students in religious-studies courses have more than an academic interest in their subjects, Rhodes said. Those people are "looking for some anchor or points of reference … a kind of foundation for a life of service" beyond a professional career.
The Evangelical Edge
Proselytizing is not part of the professorial package, and that extends to religious groups on campus, Stevens said.
"Religious people on campus are not here to convert you," Stevens said. "We all believe that we're dealing with something that's right and good and has truth in it, ultimate truth. But we're not going to force you into our assumptions."
As a Southern Baptist, Thomas Lewis '09 is at home with the evangelical tradition. But he found himself uncomfortable when the College leased the Kenyon Athletic Center for a three-day Will Graham Celebration in early October. Graham is the grandson of the Rev. Billy Graham and son of the Rev. Franklin Graham, who stirred controversy with comments decrying Islam.Lewis believed the celebration on the Kenyon campus was inappropriate, and his experiences as a participant in similar crusades have left him skeptical of their long-term spiritual value.
The twenty-year-old Memphis, Tennessee, native is a religious studies major considering both academic and clerical careers. He has shifted his Baptist orientation to become a Cooperative Baptist, "old school," as he said, with renewed emphasis on tolerance.
"I don't want to say that I've lost my evangelical edge, but I'm more interested now in what other people are thinking rather than just trying to convert them into my way of thinking," Lewis said.
"When students come to college, they're away from their parents. If they grew up religious, they're away from their churches," he said. "They encounter the party scene. They encounter professors who will challenge them to really think outside the box.
"What I really find in the student body is a group of seekers. I don't see them going to worship very much," he said. "I feel like the religious students on this campus are not really comfortable going to an organized place that maybe they've grown up in."
Spurred by the Will Graham event, Lewis started to show up at meetings of the Board of Spirituality and Religious Thought and came up with an idea to help students who are confused about their faith or just want to talk about religion. Lewis pictures a group of students who, after training, will become sounding boards or advisors for their puzzled peers.
The notion is intriguing to Bragin, who emphasized the need for proper training of student advisors. The board is considering the idea, he said.
The Sound of One Gong Chiming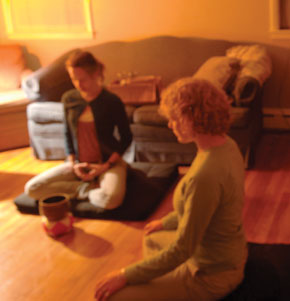 A small statue of Buddha sets the tone when the gong sounds to start Zen Buddhist meditation at 10:15 p.m. on Tuesdays and Thursdays in Fink House. Jessica Francois '09 leads about a dozen students, starting each forty-five-minute session with a strike on a metal "singing bull."
The twenty-year-old Yorktown Heights, New York, resident has never attended church on a regular basis but is interested in religion and familiar with her mother's Roman Catholic tradition and the Jewish faith of hometown friends.
She dabbled in meditation techniques as early as middle school and took a course in Buddhist thought and practice in her first year at Kenyon.
"I think that lots of people who grew up in the Western religious traditions find it really interesting because you don't have a specific god figure," she said. The core practice of living fully in the moment is an attraction for Francois.
But she is not ready to declare herself a Buddhist. "For me, meditation is more of a spiritual experience," she said. "Lots of people use it as a time to pull their lives together, to get centered."
She knows many students who attend church while at Kenyon, but most students are open to the religions of others and want to share those experiences.
"Most people view religion as a journey, not a constant state. That's the way most students at Kenyon are," Francois said. "You always achieve a different level of understanding. You're questioning."
Questioning is a part of self-reflection, something the Kenyon student does with more frequency than students at other colleges, based on survey results. Of the Kenyon students surveyed, 83.8 percent engaged in self-reflection weekly, topping the national number, 64.1 percent.
Self-reflection speaks to the nature of the student and the place. The quest for religious truth on this campus begins with that reflection. What starts with the mind often embraces the spirit as well.
--Mark Ellis joined the staff of the Office of Public Affairs in 2007, after a career in print journalism. Mark was the city editor at the Columbus Dispatch, where he also worked as a news and features reporter. This is his first feature for the Bulletin.
Do you have feedback on this page?