A World More Vivid
Jeremy Harrison '82 traverses the Arctic wilderness by canoe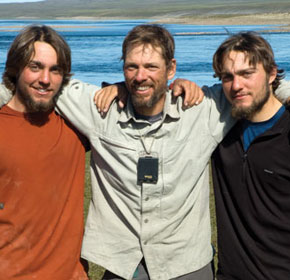 Jeremy Harrison '82 remembers with awe the feeling he had when the caribou herd went past his campsite.
"We just sat there for an hour watching them stream past. We were so close we could smell them and hear their breathing, and their hooves clicking against the rocks on the tundra."
This was just one of many awe-inspiring moments on a remarkable Arctic canoe trip that Harrison undertook last summer with his twin sons and a team of friends. Seeking a deep-wilderness experience, and hoping to raise money for conservation, the team paddled and hauled their craft across eight hundred miles of snow, ice, tundra, and sand, from McLeod Bay, on Great Slave Lake in Canada's Northwest Territories, to Chantrey Inlet on the Arctic Ocean.
In the process, they traversed the Barren Grounds, a region in northern Canada that, despite its name and treeless landscape, teems with life. During the trip, from June through early August, the voyagers exchanged stares with grizzly bears and watched a wolverine approach and trot off. They saw wolves, musk oxen, and countless birds.
Harrison, who teaches art and computer graphics at an independent school in the suburbs of Boston, had dreamed of a trip like this for a long time. As a boy, he spent summers in a Minnesota wilderness program called Camp Kooch-i-ching. When his twin sons, Sam and Alex, got old enough to go to the camp, he started volunteering at Kooch-i-ching in exchange for their tuition.
"Over the years I have come to appreciate the feeling of connection to the wilderness I get from canoe tripping," says Harrison. "For me, life becomes so intense on these trips that I see the world more vividly.
"I thought to be able to share that with my sons and close friends would be particularly rewarding."
He began planning in 2006. The team included a whitewater expert who was also qualified as a wilderness medic; a guide who had previously traveled with Harrison; his sons (who are now eighteen); and a friend of theirs who had canoed with the family before.
They approached sponsors, with the goal of raising $30,000 for the World Wildlife Fund Canada. Equipment donated by sponsors would be given to Camp Kooch-i-ching.
In June, the six adventurers drove to Yellowknife, the capital of the Northwest Terrorities. They packed their gear and three canoes into a small seaplane that flew them to McLeod Bay. Then they set out.
When they hit ice, as they did frequently on the first leg of the trip, they had to carry the canoes. In total, they pulled their canoes across eighty miles of ice, refilling their water bottles by chopping holes in the frozen surface. At times, they rowed against fierce winds, shot through whitewater rapids, and climbed over sandbars. At night, they huddled in sleeping bags in tents.
But the landscape and wildlife were spectacular. Boreal forest gave way to tundra, desert-like except along the rivers. The group also marveled at the contrast of deep blue water against the white of the eskers, snake-shaped hills of sand and gravel formed when the last ice sheet was melting.
It wasn't until the very end of July that they encountered the caribou. "We came around a bend and there were hundreds of them lined up, ready to make the swim across the river," said Harrison. That night, the migrating herd went past their camp.
Fifty-one days after they'd set off, the canoers hit the Arctic Ocean at Chantrey Inlet, where they were picked up by a small plane. Readjusting to civilization was jarring. In the wilderness, the team felt "in sync," said Harrison. "You feel a connection to the earth. It's a very freeing, liberating experience."
Back home Harrison has been able to raise $20,000 for the World Wildlife Federation Canada, just $10,000 short of his goal, which he still hopes to reach.
Readers can learn more about the trip, see photos, and learn how to make donations at www.transarcticexpedition.com.
--Traci Vogel
Do you have feedback on this page?