Celebrating a Writer, and Writing
Kenyon Review award winner Margaret Atwood comes to campus to kick off a literary festival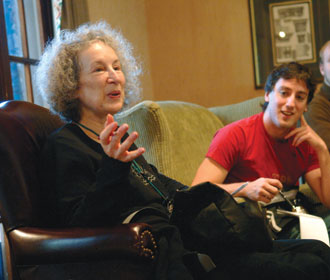 It was a perfect idea, just waiting to blossom.
Every November, the Kenyon Review celebrates its Award for Literary Achievement with a dinner and fundraiser in New York, which has been a convenient site both for the winning authors and for participating dignitaries.
Why not extend the festivities to the Kenyon campus?
This past year, the idea blossomed--brilliantly. The Review not only brought internationally acclaimed novelist Margaret Atwood to Kenyon for a lecture, a book-signing, and a conversation with students; it also created a literary festival full of stimulating activities that embraced the wider Knox County community.
The first annual Kenyon Review Literary Festival included everything from discussions of Atwood's 2003 novel Oryx and Crake to panels offering advice for aspiring writers. Atwood herself spoke to a packed Rosse Hall audience on the evening of Saturday, November 10, delivering the Denham Sutcliffe Memorial Lecture.
Two days earlier, at the Four Seasons Restaurant in New York, the Review had presented the Award for Literary Achievement to the Canadian author. The seventh winner of the award, Atwood has published poetry, essays, children's books, and criticism in addition to the novels for which she is best known. Those novels include The Handmaid's Tale (1983), Cat's Eye (1989), and Oryx and Crake, all of which were short-listed for England's prestigious Booker Prize; and The Blind Assassin, which won the prize in 2000.
The award dinner also includes an auction that raises money for the Review's endowment and for scholarship aid to participants in the journal's two summer programs, Young Writers (for high school students) and the Writers Workshop (for older writers). More than two hundred guests, including New York Mayor Michael Bloomberg, attended the event this November.
In Ohio, the literary festival actually kicked off earlier in the fall with a program called "Knox Reads!" Sponsored by the Review and the local public library system, it involved readers in discussions of Oryx and Crake, a disturbing, satiric vision of where genetic engineering, global warming, consumer culture, and social upheaval may take contemporary civilization.
Students and professors are already looking forward to next year's festival. At the Review, planning for 2008 is under way.
Do you have feedback on this page?