Marissa Boyan '04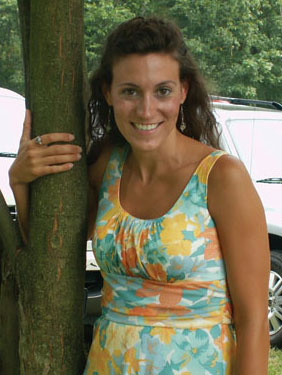 Marissa Boyan '04, on September 11, 2007, of cancer. The resident of Canonsburg, Pennsylvania, was twenty-six.
Marissa was an English major whose battle against a brain tumor interrupted but did not stop her career at Kenyon. She was twenty when she learned about the disease, but she returned to the College, where she was an exceptional athlete who competed in cross country, swimming, and track. Overcoming the effects of surgery and cancer therapies, Marissa went on to earn a master's in education at the University of Pittsburgh in 2005. She had spent her summers working in the office of the Venice Presbyterian Church, where her family attended. Marissa was a seventh-grade language arts teacher and a girls' high school cross-country coach in the Bethel Park School District in Bethel Park, Pennsylvania.
Her spirited fight against cancer inspired many people, including Brent McAuliffe, a childhood friend and an assistant swimming coach at the University of Pittsburgh. McAuliffe attempted a swim of the English Channel in July 2007 to raise thousands of dollars for a scholarship fund in Marissa's name.
Marissa's parents, William and Janet Boyan of Canonsburg, returned to Gambier on October 27, 2007, for a memorial service and the planting of a tree in her memory near Wilder Track. "Marissa loved Kenyon," Mrs. Boyan said. "It was the right school for her, and she made so many friends who will be life-long friends of ours. We love it there, and we'll be coming back at least once a year."
Her daughter was an overachiever who loved to compete, Mrs. Boyan said. "She excelled at so many things. Even with all that happened to her, it just didn't stop her," she said. "She went back to Kenyon with a brain tumor and she never complained. She dealt with each situation."
Marissa's strength of character was evident before the illness, said Duane Gomez, head coach of the women's cross country and track and field teams. "Marissa was one of the most incredible individuals I've ever had the pleasure of knowing and coaching," Gomez said. "Marissa was always positive and upbeat even in the face of the most looming obstacles.
"I would say she was the most selfless person I have ever come across," he added. "She was always looking out for her teammates. Marissa always looked for the best in people and for the best in life.
"Her courage, her wonderful outlook on life, her sunshine smile will certainly be missed."
A favorite Kenyon mentor for Marissa was P.F. Kluge, writer-in-residence, who met her after her diagnosis. "She had returned to finish her work here," Kluge said. "What struck me then and what I will remember about her forever is the way she handled a situation that anyone would find terrifying. And she handled it with humor and grace and courage.
"No one who knew her, as old as they may get to be, will ever forget her."
Marissa's passion for teaching made a strong impression on her colleagues and students, Nancy Aloi Rose told the Pittsburgh Post-Gazette in Pittsburgh, Pennsylvania. Rose, deputy superintendent for Bethel Park schools, hired Marissa. "She touched the lives of so many children," Rose said.
Marissa is survived by her parents; brother, Gregory; and grandparents, Jim and Lee Hanna and William and Ruth Boyan. Marissa was engaged to Jay Fletcher.
Do you have feedback on this page?