In KAP we go Deep
For nearly three decades, the Kenyon Academic Partnership has changed young lives by linking Kenyon professors to high-school teachers throughout Ohio.
Mike Shelton '97 and Blossom Barrett, a current Kenyon junior, grew up a decade apart in different Ohio cities. Yet, as teenagers, both faced challenges that seemed to cut off any hope of college--any hope, indeed, of academic ambition even in high school.
Shelton, struggling through a tough childhood on Cleveland's west side, never met his biological father, and his stepfather was gone by the time he was twelve. Mike was bused to John Hay High School, finding himself one of the few white students in an inner-city school across town.
Barrett grew up in Columbus with her father, but by the time she reached Linden McKinley High School he had developed a debilitating nerve disease that gradually robbed him of the ability to walk or feed himself. Blossom cared for him until her senior year, when she and family members made the hard decision to move him to assisted living.
In circumstances like these, intellectual talent often finds nowhere to take root. But both Shelton and Barrett discovered something in high school that changed their lives. That something was Kenyon, in the form of a Kenyon-sponsored program that brought college-level courses into their schools--awakening untapped potential, introducing new levels of academic sophistication and new habits of rigor, and transforming students' sense of possibilities.
The program is KAP, the Kenyon Academic Partnership, an alliance of Kenyon professors, high-school teachers, and select high-school students. Started twenty-seven years ago when six private schools approached the College with the idea, KAP now includes thirty schools in northern and central Ohio. Some of the state's best-known private schools participate, offering their brightest students the chance to reach beyond what even Advanced Placement classes usually provide.
But the program also embraces middle-class public schools in rural or small-town areas, as well as inner-city schools like those that Shelton and Barrett attended. And in these schools, where the resources and peer culture often afford scant encouragement to intellectually gifted students, KAP can literally turn lives around.
Today, twenty-five Kenyon professors work with more than 100 high-school teachers, fashioning versions of Kenyon courses in fields ranging from biology and physics to English and political science. The College also hosts a three-week KAP summer program specifically designed to help bright inner-city students hone college-level skills.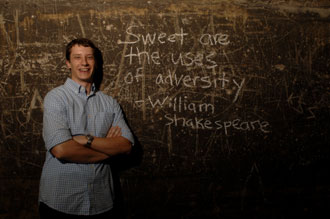 Who benefits?
The high-school students, above all.
But also the teachers, who come to rely on the Kenyon professors, and on their KAP colleagues in other high schools, as an ongoing source of intellectual sustenance, a community that rekindles pedagogical energies.
And the Kenyon professors, who value this community, too, in part because it gives them an appreciation for the vital contributions of dedicated high-school teachers. Moreover, the professors find it stimulating to lead KAP teacher workshops, which are akin to graduate seminars. In teaching the teachers, they can explore new topics and teaching tools that enhance their own classes. In addition, KAP allows the faculty members to extend the liberal-arts ideal, to build a continuum that reaches some of Ohio's best young students--precisely the kinds of students they would love to teach at Kenyon.
Indeed, Kenyon benefits as well, because a good number of KAP students do end up coming to the College, which grants them credit for their KAP courses.
Success Stories
Mike Shelton credits KAP with putting him on a path to become the first person in his family to graduate from college. As a sociology major at Kenyon, he became interested in issues of land use and urban sprawl, an interest that eventually led to his current job as the director of government relations for The Nature Conservancy in Ohio.
"There is almost no way I would be doing what I am doing now without KAP, nor would I have gone to Kenyon," says Shelton. "I assume I would have gone to Cleveland State and gotten some kind of technical degree. The KAP experience, including the summer program, opened my eyes to Kenyon and to the liberal arts, and that really excited me."
Barrett had actually considered dropping out of school as her dad got sicker, but "quitting was not an option in my house," she says. She wrestles with emotion as she speaks of her father, who died less than two years ago, but she has pushed through the pain with the support of Kenyon professors and fellow students.
"One of my greatest fears in high school was that I wasn't good enough or smart enough or wouldn't be successful," recalls Barrett, who is majoring in drama and history at Kenyon. "I had friends who graduated before me and went to college, and unfortunately every last one came back home without finishing." Her KAP courses in political science and English decisively altered her outlook. "Taking KAP classes teaches you that you are a bright student, you are not dumb, and that boosted my confidence."
KAP has proven that it can mold students from deprived backgrounds into success stories, says Martha McFerran, who teaches KAP American history at East High School in Columbus, while also serving on the program's steering committee.
"This program allows me to work with students individually and give them special attention, and to work on skills in a setting they are really interested in," says McFerran, whose classes last year studied the connections between contemporary African-American society and the Gullah culture created by slaves and former slaves in the coastal South.
"In KAP we go deep into our subject areas," says McFerran. "The kids see links and they begin to explore in a scholarly way. You can take what appears to be a small topic and it leads you in so many different directions. That's where KAP is at its best."
The advantages are somewhat different for private-school students. Christine Bonomo, seventeen, a senior at Gilmour Academy in Gates Mills, Ohio, believes the challenges she faced in KAP biology and American history last year gave her experiences that would otherwise remain undiscovered, even in Advanced Placement (AP) courses.
"I've taken three AP classes, and everything revolves around passing a test instead of learning information and being enriched," Bonomo says. In her KAP history class, students devoured books ranging from Frances Hill's A Delusion of Satan, a scholarly study of the Salem witch trials, to Graham Greene's novel The Quiet American. They dissected The Wizard of Oz as an allegory for the Gilded Age. "These are all books I really wouldn't have read," says Bonomo, whose two older brothers and sister attended Kenyon.
Toward year's end, Bonomo dove into research on Henry Clay, writing an essay that she hopes to submit for publication to the Concord Review, a history journal that publishes academic work by secondary students.
KAP's high standards and enthusiastic teachers create an esprit de corps among the students, along with strong skills that serve them well in college. "Courses like this help students get over that feeling in their freshman year of college that they have hit a brick wall," says David Houston, a history teacher who offers a KAP government course at the Laurel School, a private school in Shaker Heights. "When KAP students get their first college research paper or lab assignment, it's all very familiar and easy to handle. But their classmates are looking around panicking."
"Who the hell are these guys?"
KAP traces its origins to a group of administrators at six northern-Ohio private schools who in 1976 came up with an idea that was unique at the time. They wanted to partner with a university to offer a first-year college course for credit to qualified students from their schools--a course that would meet not on the university's campus but at the schools themselves, and that would be taught not by the university's professors but rather by the schools' own teachers.
The group met with rejection until they approached Kenyon, which embraced the plan enthusiastically despite some initial skepticism. Central to the effort was Peter Rutkoff, currently the Robert A. Oden Jr. Professor of American Studies, who became the program's director after two years and has been a driving force in its success.
Rutkoff recalls that some faculty members had doubts about a high-school teacher's ability to instruct at the college level. "Their point of view was, 'I have a Ph.D., so who the hell are these guys?'" says Rutkoff, who still codirects the program. "That was overcome as they worked things out for classes and developed mutual, professional respect."
The program began with a clunky-sounding name that drew on education-administrative jargon--the School to College Articulation Program (SCAP). The project didn't gain legs until 1979, when the George Gund Foundation provided a $70,000 grant for a three-year pilot program. (The name was changed to the Kenyon Academic Partnership in 2002.)
In January 1979, teachers from the six schools and a group of Kenyon professors gathered in Gambier for a convocation to inaugurate the program. They designed four courses--in English, modern European history, statistics and probability, and philosophy--which got under way in the fall. During the first year, 1979-80, 120 students enrolled in the special courses. That number grew to 220 students the following year.
Guidelines for the program reflected the challenging nature of the courses. Students were restricted to three credits. Initially, participation was limited to seniors, along with juniors who were in the top quarter of their classes. Now the program is open to juniors and seniors based on their grade-point average and teacher recommendations. The summer program welcomes both rising juniors and seniors.
In 1984, Mount Vernon High School, just a few miles from Kenyon, became the first public school to join the program. "Our administration had some reluctance," recalls William Shriver, who teaches American history at Mount Vernon High. "They saw that no other public schools were doing it and wondered why not."
The first Mount Vernon KAP class had thirteen students, who were allowed to participate only after their skeptical parents were convinced it was a good idea. Today, more than fifty students sign up in a typical year. The school offers KAP courses in history, English, French, Latin, and statistics.
With a grant from the National Endowment for the Humanities, public schools in Cleveland began to hop aboard during the 1980s. Columbus public schools followed nearly a decade later.
At present, the thirty participating high schools offer twenty-eight KAP courses in art, biology, chemistry, English, French, history, Latin, mathematics, physics, political science, psychology, and Spanish. More than 1,000 students take these courses every year.
They receive Kenyon credit. And they earn a Kenyon grade as well as a (usually higher) high-school grade.
The collaboration between professors and teachers is extensive. During the school year, the Kenyon faculty members visit the KAP high schools to observe classes. And every other summer, the KAP teachers come to campus for week-long workshops, learning from the professors, developing or refining courses, and recharging their batteries.
It's time well spent, says Professor of Mathematics Bradley Hartlaub, who coordinates the KAP statistics course. "You can see the twinkle in their eyes, because they know they will be able to do different things when they get back in the classroom," Hartlaub says. "We can reach so many more students by teaching the teachers."
And those teachers find KAP enormously rewarding. As Mount Vernon's William Shriver puts it, "We are a lot stronger as teachers because of this."
Typical is Mark Carle, who teaches physics at University School, a private boys' school in Hunting Valley, near Chagrin Falls. Carle, who has been with KAP since its inception, says that his work with both Kenyon faculty and KAP high-school colleagues has led to improvements in his school's lab program and has exposed him to concepts that he's used in classes outside of KAP. Carle has also written two textbooks and was presented with a Presidential Award for Excellence in Science and Mathematics Teaching in 1988.
KAP "had a major impact on the books I wrote," Carle says. The program is so popular at University School that "probably close to 50 percent of the senior class is taking a KAP science class," he adds. That enthusiasm, in turn, made it easier to convince the administration to invest in the science program.
Portia Morgan, a social-studies teacher at Cleveland's John F. Kennedy High School, marvels at the growth and popularity of the program among teachers, who still come to the Kenyon campus for annual convocations (now held in November). "When it first started, there were a handful of us. Now when we go to Kenyon, we take over the campus," Morgan says.
A Summer that "Clicks"
For the summer program, students are hand-picked based on a personal interview, an essay, and teacher recommendations, says Britz.
The goal is to provide an authentic college experience for inner-city students who are seriously interested in continuing their education beyond high school. "We really want to improve these students' chance of success," Britz says.
Thirty students from Cleveland and Columbus participate (along with two students from New Jersey sponsored by the William Whyte Foundation). They spend an intense three weeks in June on the Kenyon campus, engaged in coursework in the humanities, science, and American studies. They also earn a small stipend, recognition that by attending the program they may well be giving up income from a summer job.
"The summer program has a big impact," says Allan Keller, a retired Cleveland social-studies teacher and KAP veteran who has been the first point of contact for many KAP students over the years. Keller received an honorary doctor of humane letters degree from Kenyon last year for his role in KAP.
"This isn't 'Animal House,'" Keller says of the three weeks in June. "It's a structured day-by-day program. The idea is to immerse them, keep the TV away, and put them in a different environment."
James Greenwood '02, who attended KAP classes during the school year as well as the summer program before coming to Kenyon, remembers the strict summertime regimen, with a wake-up call at 7:00 a.m., breakfast at 7:15 a.m., and nearly three hours of class in the morning, followed by three more hours of class after lunch.
"While you were there, you read a book a week, and had a paper due at the end of the week," says Greenwood, a graduate of John F. Kennedy High School in Cleveland. "It wasn't a book report. You had to analyze the literature and think about it and make an argument."
KAP courses and the summer program are "a big defining part of who I am," says Greenwood, who was the first person in his family to graduate from college. Greenwood, who designed a synoptic major in American studies at Kenyon, is now a history teacher and assistant director of admission at the Williston Northampton School in Easthampton, Massachusetts, although he is on leave this semester as he pursues a master's degree in education.
"I saw how one teacher can impact students," Greenwood says of KAP, "and ultimately that helped me decide I wanted to be a teacher."
Current KAP students find the summer program just as valuable. "Some of the methods I used in the program taught me about time management and being responsible, and I will use these skills later on in life," says Wesley Gilbert, a seventeen-year-old senior at Centennial High School in Columbus. "At first I thought, 'Man, I'm going to be wasting my summer,' but it was really fun and I met good people."
The summer program "clicks with students," says Portia Morgan, the social-studies teacher at John F. Kennedy High. "They see they can go to college, and many who make an early decision pick Kenyon as the only college they apply to."
Indeed, KAP has proven to be an effective recruiting tool for the College. In each of the past five years, Kenyon's entering class has included about ten KAP students. A number have been inner-city residents, veterans of the KAP summer program.
Tina Vaughn Smith '03, for example, has fond memories of the summer program--both the academic challenge and the strong bonds that formed among students. On the last day, she recalls, "people were crying their eyes out."
After graduating from John Hay High School in Cleveland, Smith went on to major in history at Kenyon. As a college student, she helped KAP by working as a counselor and resident advisor in the summer program. She now teaches at Hope Academy East, a Cleveland charter school serving mainly African-American students from deprived backgrounds. She has also worked as a Kenyon admissions volunteer, interviewing prospective students and representing Kenyon at college fairs.
"KAP classes were a defining moment that made me feel I could really do something outstanding," says Smith. "We learned that even though we all might not have the same opportunities, we have some ability and we can go far in life."
--T.C. Brown is a reporter for the Columbus, Ohio, bureau of the Plain Dealer. This is his first piece for the Bulletin.
Do you have feedback on this page?