Kenyon Names Tammy M. Gocial as New Dean of Students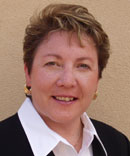 Tammy M. Gocial has taken up duties as Kenyon's dean of students. Prior to her appointment at Kenyon, Gocial was assistant vice president and dean of student life at the College of Santa Fe in Santa Fe, New Mexico. The new dean, who has worked for nearly twenty years in college administration and student affairs, assumed her responsibilities in July.
"Dr. Gocial impressed the search committee and the community as a person with energy, ideas, intelligence, and a deep commitment to students," said President S. Georgia Nugent. "She is truly excited about the possibility of working with the caliber of students, faculty, and staff colleagues that she will join at Kenyon." Gocial replaces former Dean of Students Donald J. Omahan.
A member of the administration at Santa Fe since 2003, Gocial was responsible for projects to design new campus housing and initiatives to increase diversity. She took a leading role in developing programming to prevent drug and alcohol abuse, and colleagues describe her as someone who "motivates, excites, and brings new vision" to her job. Gocial oversaw every non-academic aspect of student life at the school, a private liberal arts institution of approximately 2,000 students, with nationally recognized programs in theater, the visual arts, creative writing, and film.
Gocial "can help Kenyon take student life to the next level," said Aileen C. Hefferren '88, chief executive of Prep for Prep and a College trustee who served on the search committee for the new dean. "She has a wealth of experience in every area of student life, including the toughest issues-alcohol, mental health, sexual issues, conflicts in residence halls. I was particularly struck by the way she responded to one of our questions about how she'd handle a difficult student situation. We were all taken by her immediate appreciation for the human side of the problem. She knows how to take action as a professional, but she realizes that individual student lives are involved."
As dean of students, Gocial is the chief student affairs officer of the College, reporting directly to the president. The dean sets the vision and direction for a division of ninety-three staff members.
Gocial earned a B.S. in education at Northwestern University in Evanston, Illinois, and an M.A. at Bowling Green State University in Bowling Green, Ohio. She earned a doctorate in applied-
experimental psychology, with a development/ social emphasis, at St. Louis University in St. Louis, Missouri.
Do you have feedback on this page?