Gambier is Talking about...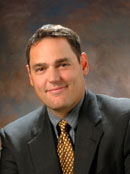 K-cards
Village merchants debated the pros and cons of a new debit card Kenyon began offering in January. K-card accounts, optional for students and local businesses, are intended to simplify student finances and provide more payment options for parents and students.
A Kenyon Congressman
Voters in Ohio's 18th Congressional district, which includes Gambier, elected Zack Space '83 to the U.S. House of Representatives in November. The Democrat and former Lords football player from Dover, Ohio, majored in political science and earned a law degree at Ohio State University. He holds the seat formerly occupied by Republican Bob Ney, who had pleaded guilty to corruption charges.
Butterflies
A refurbished butterfly garden was thriving this fall at the Brown Family Environmental Center. During the summer, community volunteers pulled weeds and mulched paths, reviving the garden, which originally opened in 1996 but had fallen into neglect.
The bookstore
A search committee charged with finding a new manager for the Kenyon Bookstore held open forums and distributed surveys to solicit community opinion. President S. Georgia Nugent, who chaired the panel, hopes to announce a choice early this year. The manager will replace longtime bookstore manager Jack Finefrock, who retired in the spring of 2006.
Do you have feedback on this page?