Ruth Thomas Bemis H'05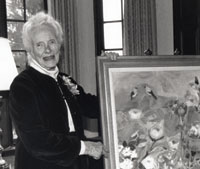 Ruth Thomas Bemis H'05 died on September 17, 2006. She was one hundred and a resident of Mount Vernon, Ohio.
A noted artist, community leader, and longtime benefactor of local institutions, Mrs. Bemis was born on February 25, 1906, in Warren, Ohio, the daughter of Helen Howard Thomas and Charles I. Thomas. A 1926 graduate of Ohio Wesleyan University, she earned a master's degree in social work at Simmons College in 1928. In 1934, she married John Hay Bemis '26, known as Jack, who became managing partner of Pickands Mather and Company. Jack Bemis died in 1981.
Prior to her marriage, Mrs. Bemis was a medical social worker; she later worked with civic and cultural groups in Chicago and Wayne, Illinois, and Cleveland, Ohio. During World War II, she was involved with various war efforts, including Victory Garden, in Washington, D.C. After moving to Mount Vernon in retirement, Mrs. Bemis became active in local affairs as both a participant and a supporter, winning Knox County's "Heart of Gold" award in 2001 for her work with numerous groups, including the Knox County Symphony, where the concertmaster's chair is named in her honor. A talented harpist herself, she had played as a sixteen-year-old in a concert in New York City's Carnegie Hall in 1922.
Mrs. Bemis's career as an artist began in 1950, when she enrolled in a painting class taught by George Rochelieu. Her paintings, which include pastel and oil paintings depicting both natural and still-life settings, were shown in a number of exhibits.
Mrs. Bemis took a particular interest in the Brown Family Environmental Center, where she was a founding member of the advisory board organized in 1997. In June 2003, she was guest of honor at the dedication of the BFEC's Bemis Barn, which was renovated and enlarged to include an aviary with her financial assistance. She was also a patron of Kenyon's music program, funding the creation of the Bemis Music Room, a classroom and recital space dedicated to her late husband in Kenyon's Peirce Hall.
On May 17, 2005, in recognition of her lifetime of achievement, Mrs. Bemis was awarded an honorary doctor of fine arts degree by Kenyon, conferred by President S. Georgia Nugent in a special ceremony at the Bemis home, Halcyon Hill. The College's president emeritus, Philip H. Jordan Jr., presented the citation for the degree, which noted that Mrs. Bemis was an early supporter of Kenyon's efforts to establish a dedicated space for the appreciation and study of nature.
Mrs. Bemis is survived by nieces Elizabeth Bemis Cameron, Rebecca Bemis Amiot Jasperson, Ann Thomas Kahn, and Judith Thomas; nephews David and John Thomas; goddaughter Christine Amiot Carter; and many dear friends, including Lisa and Greg Blubaugh, Sheila and Philip Jordan, and Peggy and William Stroud. In addition to her husband, she was preceded in death by two brothers, Charles and David. Also surviving are the members of her devoted staff, including Diane Henwood, Ivan Cline, Debra Flack, Bonnie Johnston, Henry Nyhart, Dolores Purdy, Margaret Dudte, Sandy Dailey, Kathleen Bundy, and Patricia Brandt.
Memorial contributions may be made to the Brown Family Environmental Center, Church of the Holy Spirit, Hospice of Knox County, or Knox County Symphony.
Do you have feedback on this page?