The Hot Sheet
Puzzles, pottery, puff pieces, and six other things we love about Kenyon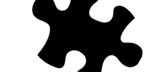 Puzzles. Kenyon students formed a Jigsaw Society during the fall semester. Members gathered in the evenings at Middle Ground Cafe to assemble puzzles. Age: 18 and up.
Puff Pieces. Kenyon women pumped up the fashion volume in the fall with trendy bubble skirts. Some women found them unflattering for
anything less than a perfect figure. We predict this bubble will burst soon.
Food Fights. The fall term saw students taking part in a spirited debate, via e-mail, the Collegian, and open forums, on that perennial campus topic-food. AVI, Kenyon's new food service provider, came in for its share of criticism. New menu items: whine, bitters, and stew.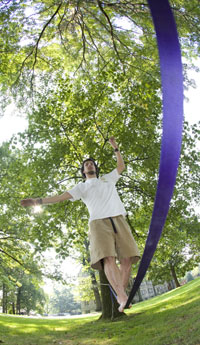 Slackers. Sophomore Ryan Volsen introduced the campus to slacklining in 2006. The balance sport is similar to walking a tightrope, but the line, often referred to as "webbing," contains more slack. The trend is said to have originated with rock climbers on the West coast. Skilled slackliners can perform tricks, and some use it as a form of meditation. Volsen was frequently spotted with his webbing strung between trees or between the columns supporting the Carl Milles angel sculptures in front of Rosse Hall.
Contact Jam. Students held improvisational "contact jams" on Saturdays at the Kenyon Athletic Center. Participants began on the floor, rolling around, eventually making bodily contact with others through dance. Don't worry, mom and dad: this is an art form.
New York Times. A new program sponsored by the residential life office provides 200 free copies of the New York Times on campus, Monday through Friday, to stimulate awareness of and engagement in current events. The program includes the option of bringing journalists or other Times employees to campus as speakers.
Tintypes. The College celebrated the sesquicentennial of the tintype, a photographic process patented by Kenyon chemistry and physics professor Hamilton Smith in 1856. Expert tintypist France Scully led workshops, and students curated an exhibition featuring both their own tintypes and historic works from the College's collection. In the tintype process, the image is reproduced on a thin piece of enameled black iron. Even though the process is rarely used now, the word remains in the lexicon, in the exclamation, "Not on your tintype!"
Pottery Marathon. Students taking ceramics classes at the Craft Center hosted a "24-Hour Throwdown" on Middle Path in October. Pottery wheels and clay were available from 2:00 p.m. on a Friday to 2:00 p.m. Saturday. Organizer Annie Lambla '07 told the Collegian that Kenyon needs more "random acts of positive artistic expression."
WKCO. The student-run radio station broadcast interviews with several faculty members in the fall semester. The subject matter included grade inflation, terrorism, and the pope's controversial address at the University of Regensburg.
Do you have feedback on this page?