Documenting Injustices
Doug Johnston '69 lends his legal talent to the fight against modern slavery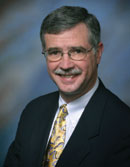 The work had to be done at night, on a rooftop, by lantern light-and discreetly, so as not to attract the attention of the slaveholders. This was 2002, in south India. Doug Johnston '69 was trying his best through an interpreter to get information from men, women, and children trapped in servitude in a brick kiln.
Johnston, an attorney from Nashville, Tennessee, had volunteered to help the International Justice Mission (IJM), a human rights agency that rescues victims of violence, sexual exploitation, slavery, and oppression. In this case, IJM was working with local non-governmental organizations to build a case against the kiln's owners that would hold up under Indian law and force the owners to free the workers.
"We had to be careful," Johnston recalls. "There are moneyed interests that, number one, don't want to go to jail; number two, don't want their workforce set free; and, number three, don't want to be fined. And they're not averse to using violence." In fact, the IJM group had to delay their meeting with the workers because the kiln owners had learned about the visit. They were making threats, warning the workers as well as other villagers not to cooperate. The lawyers had to improvise. Hence the secret meeting on the roof.
Clandestine rooftop interviews were not exactly standard operating procedure for Johnston. But he has never been one to back down from conflict. He is a founding partner at Barrett, Johnston & Parsley, a prominent Nashville firm specializing in David-versus-Goliath-style class action litigation. Johnston himself has a good deal of experience in securities and consumer-fraud cases.
He had never heard of IJM until December 2001, when another leading Nashville lawyer sent him a letter inviting him to a breakfast at which IJM's president, Gary Haugen, would speak to a group of attorneys. Founded in 1997 and based in Washington, D.C., IJM operates with support from foundations and government agencies (including grants from the federal departments of state and labor), as well as churches and individuals. In 2006, the group received a $5 million grant from the Bill and Melinda Gates Foundation to fight sex trafficking.
Reading the letter that December, Johnston was skeptical. "You get millions of these things, especially at that time of year-give to this, do that, you know, yada yada. I started to throw the thing away." But this letter was from someone he knew and respected. He phoned the attorney. "He said, 'This is the real deal; come to this breakfast and judge for yourself,'" Johnston remembers.
So he went to the breakfast. And in February, the former political science major found himself on a plane to India with six other Nashville attorneys.
The rooftop meeting was held at a minister's house, where dozens of workers had gathered in secret. Johnston conducted his interviews on one corner of the roof, holding the lantern with one hand while writing with the other. Three of the other attorneys were interviewing at other corners. The other two lawyers were meeting with workers at another improvised location.
They took details from each worker, using forms that IJM had developed. "We were still up there at midnight," says Johnston. "But we got through every single one of them. Later, we were told that in the week we were there, a total of 200 people were properly documented and ultimately set free. So we certainly had a successful week."
Some of the stories Johnston heard during that trip, and on a subsequent one in 2005, stay with him to this day. There was a boy, no older than eight, who was forced to sell peanuts to tourists, giving the money to adults who fed him only when they felt like it. There was a thirteen-year-old girl who had never attended school. When Johnston asked her what she might like to do when she grew up, the question had no meaning for her; nobody had ever given her a choice about anything. There was a man who looked like he was on the verge of death but who, in fact, was almost exactly the same age as Johnston.
The trips were wrenching. Johnston admits that he couldn't handle IJM work on a regular basis. "To tell you the truth," he says, "I'm not sure I'm emotionally capable of doing that work full time."
He looks back on the experience with a sense of satisfaction in having accomplished a tough, important job, and also with a new sense of gratitude. "I know this sounds like such a cliché, but I can't tell you how unbelievably true it was," he says. "You just have a much greater appreciation for the things that you have and the life that you lead, and the luck that you had being born here.
"Because that's really all it is," he adds. "Pure, unadulterated luck."
Do you have feedback on this page?