The Film's the Thing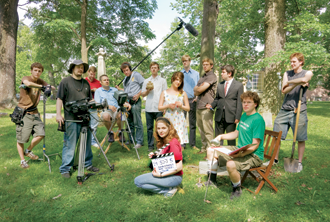 To the catalogue of ghost stories set at Kenyon, add one more: Shakespeare's Hamlet.
Kitchen Hamlet, an independent film based on the bard's most famous play, takes place in Gambier, making use of locations ranging from a Kenyon-owned house on Meadow Lane to the College cemetery. The brainchild of Associate Professor of Drama Daniel Elihu Kramer, the project features a Kenyon-studded cast and crew.
Kramer has long nurtured the idea of producing an intimate, mostly indoor version of Hamlet focusing closely on the family relationships in the play. The domestic slant gives rise to the film's title.
Funded in part by a Newton Chun faculty development grant, the film is very much a collaborative Kenyon affair-for his cast and crew, Kramer drew on the pool of talent found within the extended Kenyon family. "One of the best things about the whole project has been the opportunity to bring together students, faculty, alumni, staff, and community members," says director and producer Kramer, who oversaw the three-week shoot this summer.
Participants ranged from Patrick Shaw '07, in the title role, to Episcopal Chaplain Karl Stevens '95 (fittingly cast as the priest), to Middle Ground café proprietor Joel Gunderson as Marcellus.
Kramer began the process of editing the footage at Columbus' Wexner Center for the Arts in August. He hopes to complete the work this academic year during breaks from teaching and chairing the Dance and Drama Department.