The Hot Sheet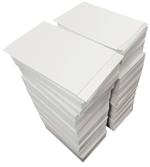 Two-sided Printing. The default setting for the printers in the College's public computer labs has been changed to two-sided printing. Early estimates suggest that, by routinely using both sides of the paper, the College can save 800,000 sheets per year. That's a stack roughly twice the height of Caples Residence Hall.
Burning Grass. The Brown Family Environmental Center held its annual prairie burn in the spring. The controlled fire destroys most of the weeds while leaving the massive ten-foot root systems of the prairie grasses unharmed. It improves the overall health of the prairie. And it's fun to watch!
Free Hugs. Community advisors, the upperclass students who organize activities in the residence halls, gave away free hugs on Middle Path along with chocolate candy kisses. Free love was not included.
Things That Don't Exist. That was the theme of a student party thrown by the Archon Society. One enterprising student costumed herself as her future Social Security check. Fun. Depressing.
The Sounds of Scabies. An unpleasant campus outbreak, which had already inspired some hilarious poetry, took a new artistic turn when students in the Flash Mob Theater staged Scabies: The Musical. If not a cure, at least some comic relief.

Pronouncing "Caramel." Analise Gonzalez '11 used e-mail to survey the campus about alternative pronunciations for words such as caramel and pecan. Because we're suckers for random trivia and we know you won't be able to sleep until you find out where Kenyon stands on this matter, here's some data: of 100 respondents, 46.8 percent favored "CAR-mull," 53.2 percent said "CARE-a-mel."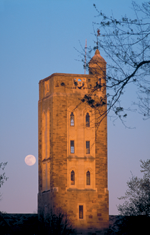 www.kenyon.edu Kenyon's Web site took on a new look in June. The updated design features a "photo wall" of twenty-seven clickable images. Students and community members may submit their own photos.
Olympic Swimming Andrejs Duda '06 was one of at least fifty athletes to represent Latvia's largest-ever summer team at the Olympics in Beijing. A former Kenyon swimmer and native of Jelgava, Latvia, Duda qualified for the global competition in the 100-meter butterfly and the 200-meter individual medley events.
A renovated Peirce and a rebuilt Dempsey were ready when students returned to school in the fall. Complementing traditional spaces like the Great Hall were new amenities, including an expanded servery, a bigger pub area, air conditioning, and main-floor restrooms.