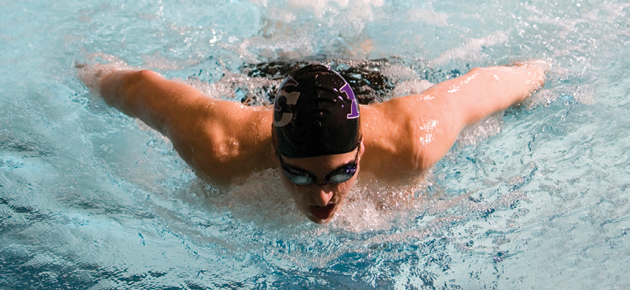 Matthew Harris sits in a staging area with seven other swimmers waiting to compete for a national title in the 100-yard butterfly. He's wearing his fuzzy purple Kenyon warm-ups, and he's trying his best to remain composed.
Before the gun, before the glory, there's the staging area. To understand a champion, you have to understand this moment, when the churning takes place inside.
His adversaries are stretching, hopping around, or zoning out with their iPods. For Harris, the waiting game is simple. "I don't like to do too much. I just sit and try not to waste too much energy. Even when I get to the starting blocks, I just try to stand stone-cold still."
The staging area, used to corral swimmers and get them lined up for the next event, is where preparation and reflection collide. The adrenaline begins to surge against the dragging minutes, each pulse of the second hand bringing the swimmers closer to the culmination of a six-month season--nearly twenty hours a week, week after week, devoted to weights and water. Focus, that all-important asset of the mental game, veers into a hyperactive highway of overlapping memories and messages.
Harris would go on to win the 100 butterfly, one of his six victories at the 2008 NCAA championship meet in March. Now starting his senior year, he holds nine career national titles and fourteen All-America awards. This summer he reached a new level in his career by qualifying for and participating in the Olympic Trials.
Each of those experiences has helped Harris learn to curb pre-race jitters, but even the veteran admits there's no stopping a racing mind.
"Lots of things are going through my head as I sit there," he says. "I'd like to say that I'm thinking, 'Swim your race, swim your own race,' but there are a lot of other factors to consider."
And so, in the staging area, his mind takes off.
He thinks about his swimming style and the tempo changes he made throughout the season, how he improved his times by conserving energy for the latter stages of races. "Past dual-meet races start to pop in my head, and how all those times of trial and error are going to shape what my race is going to be like. I think about the mistakes I've made--the times I went out too fast and died at the end. I don't want to do that again, but I also don't want to fall too far behind."
Harris's thoughts then turn to the other finalists, their individual styles, and how they might influence the race. In this case, Norman Scott of Williams College is on one side. He's the defending champion, who out-touched Harris by one hundredth of a second in last year's final. On the other side is Denison University's Lowell Byers, who was Harris's campus host when he was being recruited by the Big Red. If Harris discounts either one, then there's no sense even getting wet.
Just before the swimmers are called to the deck, Harris's thoughts take another turn. Trying to lighten the mood, he tells himself, "It's only a minute and fifty seconds. I mean, come on. It's not that bad. I'll be in and out of here in a flash."
When he does get to the starting blocks, he must wait again, this time for introductions of the participants. While that's going on, his focus comes full circle, honing in on his own style again, on his strokes and turns, and how much effort he'll put in to each length of the race.
When the starting gun finally sounds, he hits the water and his body takes over. He's escaped the pre-race mind-trap and is now in his element. Fans clap and cheer. And cheer again when the race is complete and Harris is standing with his trophy on the podium.
The whole experience will be repeated the next day, when Harris wins the 200-yard butterfly title. Once again, he takes the top step of the podium. "It's very fulfilling, standing up there," he says. "But at the same time I start thinking about being up there again--about how I've got another year left and how this isn't over yet."
Even atop the podium, the mind won't entirely relax. Just a few steps away, beyond the lanes, is the staging area, waiting.