Holdener Wins Top Math Award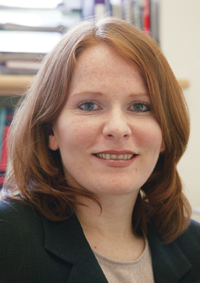 When Judy Holdener walked into her office after a weekend at a conference this past April, she found the room festooned with streamers, confetti, and congratulatory signs. The celebratory decor was the handiwork of her colleagues and students, who knew that she had received the 2008 Distinguished Teaching Award from the Ohio section of the Mathematics Association of America (MAA).
The award is given annually to a college-level instructor who has taught for at least five years. It was presented to Holdener at the MAA's conference at Marietta College in Marietta, Ohio.
"I feel fortunate to be able to teach in a place like Kenyon, where students are talented and engaging," Holdener said. "It makes teaching a joy."
Carol Schumacher, professor of mathematics, was among several faculty members who wrote letters of nomination for Holdener. Students are drawn to Holdener's classes, Schumacher said, because of her playfulness and humor as well as the high standards she sets.
The praise was echoed by Will Stanton '08, a mathematics major from Williston, South Carolina, who took two of Holdener's classes and collaborated with her as a Summer Science Scholar. Holdener "goes above and beyond as a mentor to students outside the classroom," Stanton said. "But what sets Professor Holdener apart is her playful and enthusiastic approach to mathematics."
One of many examples: Holdener organized a Valentine's Day "Math = Love" celebration, during which every student and professor in the department signed a manifesto declaring his or her true love for math.
Holdener has taught at Kenyon since 1997. In 2003, she received both the Trustee Teaching Excellence Award and the Robert J. Tomsich Science Award. Holdener is currently serving as the John B. McCoy-Banc One Distinguished Teaching Professor.
-Kate Hellman '08