Judge O'Malley Presiding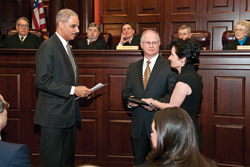 You won't find many thirteen-year-old girls who dream of being a federal judge.
But once Kathleen O'Malley '79 decided on a judicial career as a young teenager, she pursued that dream until she made it reality.
"My parents thought I was nuts," O'Malley said. They asked, what happened to being a nurse?"
O'Malley was appointed to the U.S. Court of Appeals for the Federal Circuit by President Obama in 2010. This was after serving sixteen years on the U.S. District Court for the Northern District of Ohio, where she handled several high-profile public corruption and mob-related cases.
The journey started when she read the book Gideon's Trumpet as a young teenager growing up in Richmond Heights, Ohio. The book is the true story of the landmark 1963 U.S. Supreme Court decision in Gideon vs. Wainwright, which stated that courts have to provide attorneys to defendants unable to afford to them.
"I was fascinated with the whole process of how the Supreme Court justices worked, and how a letter from a poor defendant could spark a massive change in the law," O'Malley said.
With her career path clear, she followed in the steps of her two older brothers—Kevin McDonald '75 and Brian McDonald '77—by graduating from Kenyon. She completed a double major in economics and history, going on to earn a law degree from Case Western Reserve University. She then went into private practice, where she focused on complex patent and intellectual property issues.
After she did a stint in the Ohio attorney general's office, President Bill Clinton appointed O'Malley to the District Court in 1994. There she presided over big cases like that of a former Mahoning County prosecutor who pleaded guilty to conspiracy to violate the federal racketeering statute after taking bribes in a case-fixing scheme.
At the Court of Appeals, O'Malley puts to use her background in patent and intellectual property law. One current case, for example, will decide whether graphics chip maker Nvidia infringed on another company's patents for controlling and managing the flow of computer data to and from a chip's memory.
Her career has been marked with many firsts. She was President Clinton's youngest female appointee to the federal bench when she was named to the District Court. She was the first judge on the Federal Circuit to have previous experience as a District Court judge. And in 1995 she was the first Kenyon alumna to be the Commencement speaker.
Not everything has gone according to plan for O'Malley. She was diagnosed with breast cancer and began chemotherapy the same week Obama nominated her to the Court of Appeals.
"Cancer changes you, there's no doubt about that," she said. "I'm lucky because I am a survivor. In many ways, I think I was changed for the better.
"I don't get insulted as easily and I don't take offense at criticism. There are always people critical of the decisions we make on the Appeals Court, and my experience with breast cancer has led me to let much of that criticism just roll right off my back."
—Jeff Grabmeier