Kodiak Moments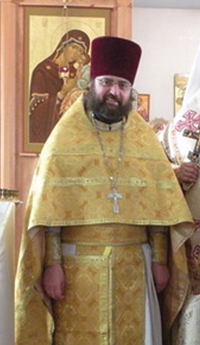 When John Dunlop '91 was a student DJ at Kenyon in the late 1980s and early 1990s, Nirvana was touring behind their debut album Bleach and Kurt Cobain was still very much alive. But the dark music didn't lead him toward punk nihilism.
Twenty years after graduation, he lives on Kodiak Island, Alaska, and is the Very Reverend John Dunlop, dean of the Saint Herman Theological Seminary, and instructor of liturgics and theology. He doesn't dismiss punk, though.
"Punk music expressed dissatisfaction with 'normal' life. It peered beneath the plastic veneer of middle class life to expose hidden truths," Dunlop said.
"Many 'punks' have a great desire to lay down their life for a higher cause and to serve God and their fellow man. They truly and deeply hunger and thirst for the transcendent. Sadly, some never find transcendent truth but end in nihilism and self-destruction. They are thirsty souls which never found water."
Dunlop's own quest for truth began at Kenyon, where he majored in English, writing a senior thesis on T.S. Eliot's spiritual journey from nihilism to highly traditional Christianity. "My path," said Dunlop, "is not so unusual if we look at the lives of people like the bohemian Dorothy Day of the Roman Catholic Church or the great Russian Orthodox novelist Fyodor Dostoevsky, who was once a political nihilist facing a Tsarist firing squad."
As an Orthodox priest, Dunlop feels he's still living the "counter-cultural" life expressed in the punk aesthetic. He's certainly not located in the mainstream.
"Kodiak Island is a beautiful place," he said. "There are bears, eagles, sea lions, salmon, and whales in abundance. There are huge snow-capped peaks.
"My work here," he continued, "is primarily with Native Alaskans who joined the Orthodox Church in the late 1700s. Kodiak was the capital of Russian America. Russian monks traveled here from Siberia in 1794. Most of my seminary students are either Yupik Eskimos, Aleuts, Tlingits, or Kodiak Alutiiqs."
Dunlop still writes—lectures, homilies, and talks. He says mass, teaches, and attends to his Alaskan flock. "I have enjoyed serving the Alaskan people, whether it's baptizing babies or burying venerable elders."
But his job isn't all spiritual reward. "The biggest challenge is probably dealing with the bureaucratic side of the church, whether it's paying the light bill or writing reports. Also, it is difficult to deal with tragedies in the villages such as suicide or alcoholism or their loss of their culture."
Almost all of Dunlop's experiences in Alaska have fallen outside of the ordinary, though some are more memorable than others. And, not surprisingly, music is at the center of one of them. "During Russian Christmas time in the villages, we go from house to house caroling, following a star, a large wooden pinwheel which is spun. We follow the Christmas star and sing ­traditional Russian and Ukrainian carols," Dunlop said.
"This is always done in the deepest, darkest part of winter, but it is a joyful time."
—Bill Eichenberger