Distinguished Decade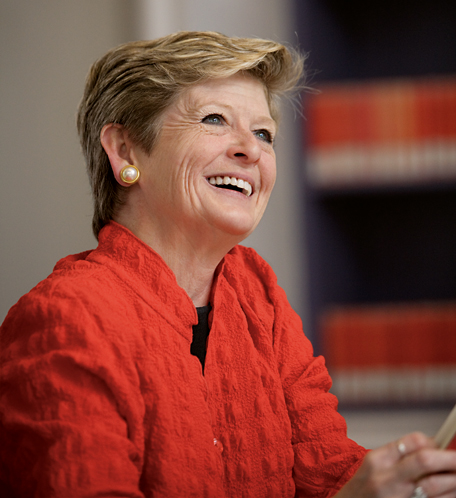 President S. Georgia Nugent announced on August 13 that she decided to step down at the conclusion of the 2012-13 academic year. In accepting her decision, the Kenyon College Board of Trustees expressed its gratitude for her decade of distinguished service.
Soon after her arrival at Kenyon from Princeton University in 2003, Nugent began to sound themes that were central to her presidency: access to education and "polishing the gem" of Kenyon's national reputation. On Nugent's watch, Kenyon became an even more selective college, one of the most selective in the Midwest, attracting a more diverse and international student body, fueled in part by her commitment to ensuring access to education for talented students of all economic backgrounds. With her advocacy, more than $60 million in endowed financial aid—a Kenyon record—was raised during the recently completed "We Are Kenyon" capital campaign. Nugent's own contribution to the campaign established a scholarship fund for first-generation students.
In addition to her efforts to increase access, Nugent has been increasingly concerned with advocacy for the value of liberal arts education, and she plans to assume a broader role in the national discussion about the future of higher education. In recent years, she has chaired the boards of the Council of Independent Colleges and Higher Education Resource Services, as well as serving on the boards of the National Association of Independent Colleges and Universities and the American Council on Education. She is also a member of the Council of Presidents of the Association of Governing Boards.
"I am passionate about the value of the liberal arts," Nugent said, "and I believe it is critical that we find more effective ways of articulating that value to the public. In my decade at Kenyon, I am especially proud that we have been able to offer an increasing number of bright students of all backgrounds access to an outstanding liberal arts education. I am looking forward to applying my experience as a college president to the national conversation about this issue."
Kenyon board chair Barry F. Schwartz '70, who served as the chair of the Admissions and Financial Aid Committee for eight years before his election as chair in 2011, said, "The Board of Trustees applauds Georgia's distinguished tenure as president at Kenyon and her vital and knowledgeable presence on the national stage as a proponent of liberal arts education and its affordability for all. Her background as a talented first-generation student informed both her knowledge and compassion about this issue, and we are certain that she will continue to be among the influential leaders of those who are committed to the future of higher education."
Nugent made the announcement just before the academic year began in order to facilitate a smooth transition process. "This will be a significant year at the College, and it seemed the right moment, before the year began, to inform our key academic and administrative leaders of this important decision as we moved forward with future projects," she said.
Nugent's legacy includes a strong interest in improving the quality of life for Kenyon employees by initiating the Presidential Advisory and Communications Team and the Kenyon Childcare Program. She has also overseen an unprecedented program of new building construction and renovation.
The goal of a presidential search committee will be to name Kenyon's next president by June 30, 2013. "The College looks forward to celebrating Georgia's considerable legacy in the great tradition of Kenyon presidents," Schwartz said, "and the Board of Trustees knows that a high bar exists to find a successor who will be her equal."