The Road to Broadway
Some actors insist that they can sense whether or not a production has potential just by reading through a script.
But for Brendan Griffin '02, who was churning through several auditions a week in late 2009,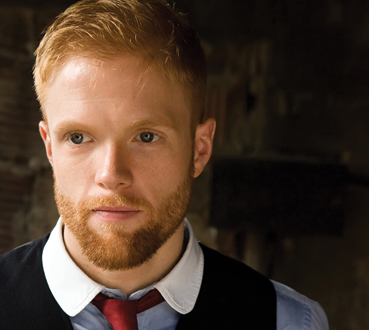 Clybourne Park
was just another potential gig. It was after he started rehearsals for the Off-Broadway production that he realized he was part of something special—and that he needed to step up his game.
"I was working with such incredible actors," he says. "Sometimes I just felt like the teacher from Charlie Brown—as though just gibberish was coming from my mouth."
Though he admits he felt some anxiety going into the project, he'd built up plenty of confidence during his years at Kenyon that helped him maintain his perspective. "I was a drama major, I sang a cappella music, I took classes in everything from environmental politics to American naturalism," he says. "I left feeling like I could do anything."
His ambitions have always been big: He helped found the Dog & Pony Theater Company in Chicago shortly after he graduated, then moved to New York to focus on film and television projects. His chiseled good looks have often led to military-themed roles in television shows including
Law & Order
and
Pan Am
, and movies including
Generation Kill
and
Taking Chance
.
Clybourne Park
is his first Off-Broadway role.
The show, a response to
A Raisin in the Sun
, tackles controversial issues of race, class, and gentrification over the course of fifty years in a single Chicago neighborhood. Griffin plays several characters, including a Presbyterian minister and a real estate attorney. Audiences were riveted by the thought-provoking show, and good word of mouth helped the production thrive for a short run in 2010. Much of its original cast went on to perform the show in London in late 2011 and Los Angeles in 2012.
By then, the show had racked up several prestigious awards, including the Laurence Olivier Award for Best New Play and a Pulitzer Prize. In April 2012, the cast officially stepped up to the big leagues when the show made its debut at Broadway's Walter Kerr Theater.
Shortly after the play opened, it was nominated for four Tony Awards; it won for Best Play. But there was no time to bask in the victory. "It was a Cinderella experience," Griffin says. "But then you realize that you still have to go back to doing eight shows a week. When you win the Super Bowl, you don't have to play a game the next week."
After the show wraps up in early September—after 184 Broadway ­performances—Griffin will be back at the audition grind. "You can have the most amazing months of your life, but after closing night, you go back to the beginning," he says. "You're always looking for that next big thing."

—Erin Peterson