Tour Talk
Thinking on their (backward-shuffling) feet, Kenyon's tour guides find themselves answering questions on everything from hook-ups to horses
Here's a brief cautionary tale from the realm of the Kenyon campus tour guide, that unsung hero of college admissions, who can spout nifty statistics, recount perfect anecdotes, and tactfully answer awkward questions, all while smiling and walking backwards.
As a guide in the summer of 2006, Emily Bierman '08--not terribly adept at back-pedaling--took a nasty tumble outside Peirce Hall and dislocated her kneecap. But that's not all. One of the dads on the tour, while holding poor Emily's head in his lap as they waited for an ambulance, used the occasion to pose yet another admissions-oriented question. "So tell me," he said as Bierman fought back tears, "why did you choose Kenyon?"
Yes, just about anything can happen on a college tour. And for guides like Emily Bierman--who mustered a sincere answer for the dad before the paramedics hoisted her away--the rule is to expect the unexpected. The questions can be ill-timed, uncomfortable, or just plain weird. Sex? Chickens? They've heard it all.
Before we get to sex and chickens, it's worth making the point that these tours are important. "I frequently read on applications that the tour is the main reason students come to Kenyon," said Elizabeth R. Forman '73, senior associate director of admissions. "If our prospective students don't like their tour, we frequently don't see them again."
Given the crucial role that campus tours play in the admissions process, why do colleges entrust them to mere undergraduates? It's partly a matter of expertise and perspective. High school students can learn only so much from Web sites, mailings, college fairs, guidance counselors, and even admissions officers. A college's students know the place up close and inside out. And they can speak with authen­ticity and credibility.
Consider a recent tour taken by Cecilia D'Anastasio, a high school junior from Vienna, Virginia. Chances are that she was not going to hear an admissions officer, let alone a faculty member, refer to the Olin Library's 2:00 a.m. closing signal as "the dork bell." That bit of inside lingo was imparted by tour guide Colin Maguire '08.
"He gave me a better understanding of what college is like," said D'Anastasio, who toured Kenyon in February. "I think an adult would try to sell it to me more." Maguire, whose favorite adjective was "cool" during his loop with D'Anastasio, spoke the sixteen-year-old's language.
Tour guides undergo hours of training and study a fifty-one-page handbook that outlines a suggested tour route and covers Kenyon facts, traditions, and academic departments ("the psychology curriculum provides an opportunity ... to examine diverse theoretical views and findings"). Nevertheless, they can't be prepared for every question, circumstance, or visitor.
Bierman once fielded an inquiry about the availability of contraception on campus from a father whose question brought a blush to his daughter. Turns out, dad didn't need to worry. As soon as he was out of earshot, his daughter quizzed Bierman about Unity House and the lesbian community on campus.
"I just answered their questions," Bierman said. "We're told to answer everything, as long as it's not personal."
Sometimes the parents and their children take separate tours. Bierman prefers to keep them together. "In one of my student-only groups," she recalled, "all the kids started smoking as soon as their parents left."
On the other hand, parents can say the darndest things when freed from their kids. On one of her parents-only tours this year, Stefanie Wilson '08 found herself peppered with questions that had nothing to do with classes or student activities. "Who are you going to vote for in the primaries?" they wanted to know. One asked: "Why in the hell is your campus so clean on Saturday mornings?"
On another parents-only tour, Will Stanton '08 had to reassure a mother who was worried not about sex, drugs, drinking, food, or hygiene, but apparitions. "I hear that Kenyon is haunted," said the anxious mom. "Have you ever heard of ghosts hurting students?" Stanton, who comes from Williston, South Carolina, turned on his southern charm. "No, ma'am," he said. "I have not heard of any ghost-on-student violence here on campus."
And then there's poultry. Tour guide leader Zach Shapiro '08 knows the handbook front to back. But he was at a loss when a health-conscious high school student demanded, "Where do your chickens come from?" Shapiro contacted the food service and later e-mailed her the answer. "It was the strangest question I've ever been asked," Shapiro said.
The most ticklish questions center on "parties and hook-ups," Maguire said. When he felt obliged to tell Norwalk (Ohio) High School senior Joe Leffler that, yes, beer sometimes flows at student gatherings, Leffler's father Russ turned to his wife, Debbie, and muttered, "I think this is the part of the tour where we are supposed to leave."
One of Maguire's most challenging tours, however, had nothing to do with sex or alcohol. It involved an enthusiastic Kenyon alumnus who had brought his college-bound nephew to Gambier and who waxed poetic at every stop, essentially commandeering the tour.
"This guy gave a ten-minute talk in front of every building, reciting all of his experiences here," Maguire recalled. Tours are scheduled to take sixty minutes. This one took two and a half hours.
Sometimes, ignorance is tour-guide bliss. Emily Kliever '08 could have pretended to be walking the red carpet instead of Middle Path when she escorted Academy Award-winning director Jonathan Demme (Silence of the Lambs, Philadelphia) and his daughter. "I'm glad I didn't know who he was until after the tour; otherwise, I would have been really nervous," Kliever said.
Universal tour stunners, for parents and students alike, include things that Kenyon doesn't have: required freshmen classes, dormitory visiting hours, and separate Greek housing. Guides often have to address the notion, especially from out-of-staters, that the Amish overrun Gambier. "Where are all the horses?" a mother asked guide Dave Mastrangelo '09 last summer.
The Office of Admissions employs about seventy student guides--sophomores, juniors, and a few seniors. They're screened for their personalities and extracurricular activities as much as their GPA and academic achievement.
Guides work for minimum wage. Shapiro would just as soon be paid in quarters. "I cash these ridiculous weekly checks for, like, $7.00," Shapiro said. "My tour check is basically my laundry money."
Their Kenyon spirit and the opportunity to polish their "people skills" motivate the guides. The Kenyon community holds them in high esteem, and they share an esprit de corps, expressed by T-shirts that proclaim, "We do it best backwards."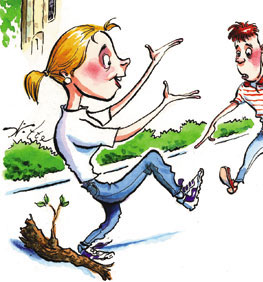 The slogan refers, of course, to the essential tour-guide skill of walking in reverse, so as to face the visiting prospects and their parents. It can be tricky (just ask Bierman). "We actually practice it," Shapiro said.
Kliever is among a rebel few who resist. "I walk sideways instead," she said. "I tried walking backwards and kept losing my flip-flops."
The ideal tour guide is upbeat. "We like bubbly," said Shapiro, and he wasn't talking about champagne. Shapiro is one of two student leaders who help the admissions staff select the guides. "Pretty much all you do is tell people how much you love Kenyon," he said.
That's not to say that the guides dispense nonstop happy talk or canned platitudes. On the contrary, they're encouraged to talk honestly, using their own personal experiences. Leading a group through the library, usually the first tour stop, Wilson recalled a frightful night there when technical assistance rescued her from academic disaster. "My screen went blank and I lost my paper on deadline, but the staff was able to retrieve it. They saved me."
Maguire talked frankly about his difficult freshman year, exacerbated by an injury that curtailed his lacrosse participation. "I was miserable here," he confided to his tour group.
On recent tours, guides described Olin Library as "the ugliest building on campus," the dining hall food as "trying to get better," and the residence hall rooms as "standard."
"This place is not perfect," Shapiro said. "We want students to choose the right school for them, even if it's not Kenyon."
During her own campus visits as a high school student, Bierman recalled being turned off by "cocky" student shills who bashed rival institutions and focused on their own fields of study.
Indeed, Kenyon has enough self-confidence to allow for an unvarnished view of student life, best exemplified by the fact that tours stop--unannounced--at McBride Residence, a first-year hall. With their charges in tow, guides walk in and crash the first occupied room they can find. "If there are naked people or evidence of drugs/alcohol, etc., then discreetly say that you'll check out another room or knock on another door," the handbook cautions.
Never mind the handbook. Maguire ushered the Leffler family into a cramped double where two women lounged with a friend on unmade beds among piles of laundry, papers, and books. Mrs. Leffler was impressed. "We got to see a real dorm room," she gushed.
Duncan Belew, a high school senior from Washington, D.C., recently completed his third student-led tour at Kenyon, "and each one has been different," he said. Belew is banking on tours to help him sort through thirty colleges and universities. He's already eliminated half of them. "I made my decisions based on the tours pretty easily," he said.
And he's not alone. In many cases, the tour guide leaves the most lasting imprint on a prospective student and is the primary influence on the decision to accept or reject Kenyon. This is especially true in the summer, Bierman said, "when the tour guide may be the only Kenyon student a high school student encounters."
In truth, the guides never know what off-hand remark or inconsequential detail is going to make or break an enrollment decision. "The two things I remember most about my tour are the cheap hot dogs [at the Village Market] and the fact that the dining hall looked like something out of Harry Potter," Shapiro said. "That's why I came here. I wasn't thinking about academics."
Do you have feedback on this page?