Kenyon Marks Stage Entrance and Exit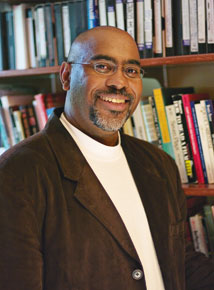 Jonathan Tazewell '84, associate professor of drama, has been named to the Thomas S. Turgeon Professorship in Drama.
The endowed chair, funded by a number of Turgeon's former students, was announced on June 1, during the kickoff event for the current campaign, "We Are Kenyon: The Drive for Excellence."
As student, as fellow performer, and as academic colleague, Tazewell has enjoyed a long association with Turgeon, professor of drama.
"It's a huge honor for me," Tazewell said. "It's always gratifying to feel recognized by the College, certainly with something as significant as an endowed chair.
"In addition, my relationship with Tom Turgeon is quite a long one. Because Tom was my professor, this is meaningful to me in so many ways," he said. "I feel a certain responsibility to carry on the legacy. I'm happy to take it on."
Turgeon, who is on sabbatical leave, retires at the end of June.
Tazewell has taught at Kenyon since 1991. He returned to the College two years after graduation to work in the admissions office. He earned a masters degree from the California Institute of the Arts in directing for theater, video, and cinema in 1994. He works as an actor, director, and writer, with credits including productions at Kenyon and with the Arden Theater Company and Walnut Street Theater in Philadelphia, Pennsylvania; Contemporary American Theater Company and Red Herring Theater in Columbus, Ohio; and in several independent films.
Do you have feedback on this page?