Gregory Spaid Leaves Position of Provost to Return to Teaching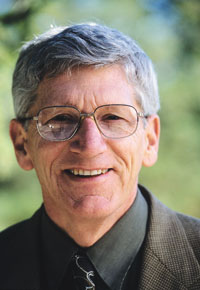 Kenyon Provost Gregory Spaid '68 announced this spring that he will leave his administrative position and return to full-time teaching in the art department. Spaid will continue to serve as provost through June 30.
President S. Georgia Nugent appointed Spaid provost in 2003. He had been acting provost during the 2002-03 academic year and an associate provost for three years prior. Spaid, a noted photographer and digital imagist, has been a member of the College's art faculty since 1979.
"It has been a privilege to serve Kenyon as provost for the past six years, and for three years before that as associate provost. From the perspective of those nine years, I feel even more strongly that Kenyon is an almost magical place, a place with great integrity as an institution and with an extraordinarily talented and committed faculty and staff," said Spaid. "I am honored to have had a leadership role at this fine college and am grateful to President Nugent for inviting me to serve. Working closely with Georgia has been one of the daily pleasures of my role as provost. But now it feels right to me to be returning to my life as an artist and teacher, after a long and fascinating interlude."
The hallmark of Spaid's tenure as provost has been his commitment to faculty development. He has overseen increased funding for international travel along with the development of the Newton Chun Fellowship, the Labalme Faculty Development Grants, Teachers Teaching Teachers grants, and Individual Faculty Development Accounts. Spaid has also spearheaded the program of junior research leaves for all faculty members, allowing junior faculty to prepare for the tenure review process.
All of these opportunities ultimately result in better teaching, and Nugent praised Spaid for his own dedication to teaching: "I know from my interactions with Greg's former students that his return to the classroom will be a wonderful gain to our students, although it is a loss to our administration," Nugent said.
Spaid graduated with high honors from Kenyon in 1968 and went on to earn a master of fine arts degree from Indiana University, where he worked with the renowned photographer Henry Holmes Smith. Spaid's work is part of several permanent collections, including the Museum of Modern Art and the Smithsonian Institution. His other honors include a Fulbright Fellowship to Italy and six Ohio Arts Council grants.
Do you have feedback on this page?