Lewis "Tim" Leach '55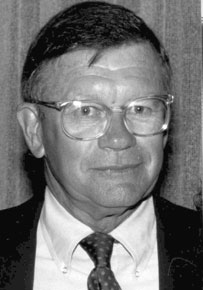 Lewis "Tim" Leach '55, on March 19, 2008. The Tampa, Florida, resident was seventy-four.
Tim, a history major who cultivated a lifelong interest in the subject, was the social chairman of his sophomore class. He served in the U.S. Army in 1956-58.
Tim enjoyed a career in industrial sales and marketing for National Steel and U.S. Gypsum, retiring as a sales manager. He was a native of Grosse Pointe, Michigan, and later lived in Milwaukee, Wisconsin, and Atlanta, Georgia.
He was devoted to the well-being of the College and was an active fundraising volunteer as well as a generous donor. The College presented Tim with two Distinguished Alumni awards and the D. Morgan Smith Class Agent Award for 1999-2000, all of which he received with pride.
Tim appreciated the finer things in life, becoming an accomplished cook, wine connoisseur, and conversationalist. And he was an enthusiastic correspondent. Tim was also a skilled cribbage player and framed his one-time perfect hand, supported by a notarized statement and photos. After his retirement, Tim became a volunteer at the Children's Home in Tampa and for the Master Chorale of Tampa. Tim savored world travel and added stories about his journeys to many fundraising letters sent to his classmates.
College Historian Tom Stamp enjoyed Tim's company during Tim's many visits to Gambier and traveled with Tim and his wife, Nancy, on a College-sponsored trip to Italy. "They were great companions, up for any kind of adventure," Stamp said. "He always had a smile and something positive to say about the state of affairs at the College. That's not to say he was uncritical, just that he had, in general, an optimistic personality."
Tim was preceded in death by his son, William Leach II. He is survived by Nancy and his sister, Isabelle Kuhlman. Memorial contributions may be made to the Master Chorale of Tampa, 30382 USF Holly Drive, Tampa, Florida, 33620, and to LifePath Hospice, 3010 W. Azeele Street, Tampa, Florida, 33609.
Do you have feedback on this page?