Life Trips Art
Or, the strange tale of Zachary Nowak's Italian murder novel that "predicted" a shocking murder (only there was no murder in the novel) and made Nowak a (reluctant) minor celebrity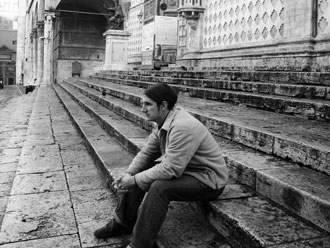 Imagine writing a playful little novel called Murder in Perugia, only to halt publication at the last minute when a real murder in Perugia throws the book into lurid light, while throwing you, the author, into a bizarre kind of celebrity.
Welcome to the recent life of Zachary Nowak '99, expatriate, ebullient inhabitant of Perugia, Italy, and sometime writer whose fiction debut--with a novel that did not include a murder--got tangled up in a real-life tragedy.
A bit of background. Like many a college graduate, Nowak decided to travel to Europe after graduation. He fell in love with Perugia and stayed on. He got to know the city so well, in fact, that he published a local guidebook, the Little Blue What-To-Do. He conducts workshops for an American study-abroad program (how to make prosciutto or wine, appreciating Italian coffee, etc.). He also tends his own vineyard in the center of the city--a "form of Zen, pruning the vines," he said in a recent e-mail exchange.
In a sense, his novel was an extension of his insider knowledge about Perugia. Featuring real places and local characters, it captures the youthful flavor of a city that welcomes many foreign students, in part through the European Union's ERASMUS program. In Nowak's book, a British rock star goes missing.
Murder in Perugia was to be published on November 2, 2007. That day, however, the body of Meredith Kercher, a twenty-one-year-old British student, was found in her bed, her throat slashed. Police arrested Kercher's twenty-year-old American roommate along with two Italians. Police theorized the four had been involved in a bout of "extreme sex" gone wrong.
"My roommate, Mauro, didn't like the ending of my book, and so when he told me that ... an English student had been killed, I thought he was pulling my leg," Nowak said. When he found out that the murder was for real, he was horrified.
He and his editors immediately decided to delay publication of his book. But Nowak and his novel got caught up in the media circus spawned by the grisly murder, which made headlines around the world.
"It would have passed unnoticed," he said of the book and its title, "except that a reporter from La Repubblica's online site heard about it. As soon as his article came out, it was a damn circus for a month. I got calls on my personal cell phone at all hours of the day." Again and again, Nowak found himself giving hour-long interviews, reiterating that there was no murder in his novel, then seeing an article headlined something like "Murder in Book 'Foresees' Meredith Slaying."
A byproduct of this frustrating celebrity was a high demand for Nowak's skills as a guide to Perugia. English-speaking journalists, including Mark Singer of the New Yorker, relied on Nowak and his extensive knowledge of the city. He appeared in a Dateline NBC report on the murder, as well as on ABC's Nightline, and was quoted extensively elsewhere.
But what of his novel? The story has a happy ending. He retitled the book Peril in Perugia, and it has finally been published by eGeneration Editions. There are in fact some parallels with the actual murder, but only because Nowak uses real places and people. "Pisco, the manager of one of [the bars], is a suspect in my book as well as being one of the people who knew Meredith best," Nowak said. "He was one of the principal people interviewed by the media after the murder."
But the intersections of art and life are superficial. "I tell everyone that the coincidences mostly stop after you turn the cover," said Nowak. "Mine is a fictional, lighthearted comedy where the plot line of an investigation is an excuse to write mini-essays about Perugia from a foreigner's point of view."
Still, the coincidences have brought the novel to a larger audience. And the publicity has changed Nowak's life in another way. He is now working on a nonfiction book about the murder, thanks in part to the New Yorker's Mark Singer, who put Nowak in touch with a publisher. Nowak also wants to edit an anthology of foreigners' pieces on the city, and has started his own publishing house, Green Door. Meanwhile, to his relief, his cell phone is not ringing quite as much.
The bilingual English-Italian edition of Nowak's novel is available through info@greendoor.it.
--Traci Vogel
Do you have feedback on this page?