Now They Can Walk
Surgeon Merrill Ritter transforms lives in third-world countries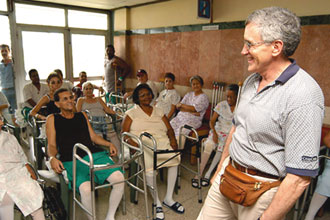 As he neared retirement age, Merrill Ritter '60 began to think about how he could give back. An orthopedic surgeon, he felt he led a blessed life. He'd traveled all over the world, established the Center for Hip & Knee Surgery at St. Francis Hospital in Mooresville, Indiana, and helped start the American Association for Hip and Knee Surgeons. He's a professor of orthopedic surgery at Indiana University School of Medicine.
Then in 1997, Ritter visited Cuba with a colleague, Lawrence Dorr, and found his altruistic calling. In Cuba, Ritter, who specializes in hip and knee replacement surgeries, discovered a severely underserved population: victims of rheumatoid arthritis and other debilitating bone and joint conditions who had no access to modern medical technologies. People of all ages were crippled, for want of a fairly routine operation.
Ritter now serves as president of the Indiana chapter of a nonprofit called Operation Walk, which sends groups of physicians to third-world countries to perform these vital surgeries. With passion in his voice, he tells scores of uplifting stories about the program's success.
Just back from a trip to Nicaragua, he talks about a nineteen-year-old woman, deformed by juvenile rheumatoid arthritis. The young woman desperately wanted a double hip replacement that would allow her to walk again, so she hid the fact that she had also had rheumatic fever of the heart as a child, a condition which would have precluded her from the operation.
"She got into terrible trouble [in the operating room]," Ritter says. "We didn't get to do her other hip. We went out and talked to the family and they said she had made them promise not to tell us." The story has a happy ending, however: "Now we're going to be able to bring her to the Mayo Clinic; we're going to get her heart done," Ritter says. "And then we'll see about her other hip."
"You've never seen such a smile on a face as when a person who could not walk before or that was bothered with pain is now able to walk," says Ritter. "It's a gift from God, not for them, but for us."
Since 1994, Operation Walk has performed joint replacements on more than 2,500 patients in eight countries. In one week-long visit to a host country, a team of sixty-plus doctors and nurses packs about five dozen operations into three days. Ritter has organized teams that have visited Cuba, Nicaragua, and Guatemala repeatedly since 2000. "It's important to come back," he says. "If there are concerns later, you can see them again; as a surgeon you've got to follow them."
Ritter, who is the eighth physician in his family, was drawn to orthopedics because it's an athletic subspecialty, and he's an athletic person. At Kenyon, he swam for the Lords. Today, living with his wife of forty-six years in Indianapolis, Indiana, he runs three times a week. The couple has two children and four grandchildren.
Ritter's Kenyon career was unusual in that he left after three years to take advantage of a program allowing for early medical-school entry in Indiana. As a result, Kenyon technically couldn't award him a degree, a disappointment that lingered until 1985, when the College decided to grant the diploma. As a result, Ritter--an M.D. since 1963--was able to march down Middle Path and receive his B.A. from President Philip H. Jordan Jr.
"I've been all over the world. I've operated in almost every country," Ritter says. "It's been a very big gift to me, but none of it is as great as going and passing on the ability to walk again to people who might never have had that chance. God gives us love, and we pass that on to the patients. That's what it's all about."
Do you have feedback on this page?