Moon Walking at Philander's Phling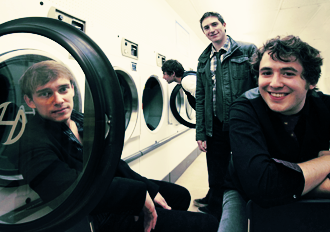 The band Walk the Moon took off in 2008 when it was chosen to represent the United States at London's City Showcase. This year the musicians touched down at Philander's Phling, making their Kenyon debut. The band is raising money to record with multi-Grammy winning producers Ross Hogarth and Steve Thoma and planning a national tour for summer 2009. Members are Adrian Galvin '12, Nick Lerangis '09, Nick Petricca '09, and Adam Reifsnyder '08. Listen to their music and learn more at www.walkthemoononline.com .
The theme for this year's Phling, named in honor of Kenyon's founding father, Philander Chase, was the "Roaring Twenties." The semi-formal party is arguably Kenyon's most popular social event, featuring student bands like Walk the Moon in one room and a deejay at work in the wood-paneled, stained-glass glory of Peirce Great Hall.