Sparking Sparks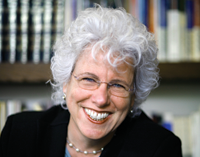 Rabbi Stacy Offner '77 dismisses the pioneering aspect of her career with a paramount ideal of her faith: humility. "I just do what I do," Offner said. The thought of being a trailblazer "never occurred to me."
Yet Offner, 53, one of the nation's first female rabbis, continued making history August 1 when she left Shir Tikvah Temple in Minneapolis after 20 years of service to become vice president of the Union for Reform Judaism, the largest synagogue movement in the United States. The appointment makes her the highest-ranking female Jewish clergy in North America.
Her charge as a national faith leader is to ensure the vitality of Reform Judaism, the liberal wing devoted to the reconciliation of historical Judaism with modern life. The position puts her at the forefront with other religious leaders responding in unison to international crises and human suffering.
Offner's move from Minneapolis to the Union's New York City headquarters swells her constituency from one congregation of a thousand people to nine hundred member congregations of more than 1.5 million people. Nevertheless, Offner still sees herself as a congregational rabbi, tending to the spiritual, emotional, and social needs of individuals.
"Creating holy one-on-one relationships was at the core of what I did in Minneapolis and I'll still have the ability to do that in New York with our administrative staff and 250 board members," she said. "I'll have an impact on them and they, in turn, will have a tremendous impact on our members. In other words, I am sparking sparks."
Born and raised in a Reform Jewish household in Great Neck, New York, on Long Island, Offner decided in high school to become a rabbi, even though there were no female rabbis at the time. Her experience at Kenyon only reinforced her desire to pursue her improbable dream.
"The education I received at Kenyon was consistent with the values of Reform Judaism," she said, "because both focused on the human endeavor and asked the question: 'What is the meaning of our lives?' It was a place that encouraged us to live better lives and be responsible individuals in the world.''
During her years in Gambier, Offner stayed tangibly connected to her faith, meeting regularly with other Jewish students in dorm rooms and the dining room at Gund Hall to observe Jewish holidays and other occasions. "It was great," she said. "We had a small but meaningful group of Jewish students who transcended movement ideologies such as Orthodox, Conservative, and Reform to sit at the same table."
She describes religion professor Don Rogan as a "mentor," who inspired her with a lasting piece of advice: "Never divorce who you are from what you do."
Rogan, now Professor Emeritus of Religious Studies, has followed from afar his former student's career, distinguished by a string of "firsts," including first female rabbi in Minnesota, the first rabbi elected chaplain of the Minnesota Senate, and the first openly lesbian rabbi to serve a mainstream congregation. "Her success does not surprise me," Rogan said. "I admired her guts and determination. She has had some controversy in her rabbinical life and rose above it to succeed when others might have capitulated."
Offner graduated magna cum laude from Kenyon and earned a master's degree in Hebrew Literature in 1982 at Hebrew Union College in New York, where she was ordained in 1984. She began her career as assistant and later associate rabbi at Mount Zion Temple in St. Paul, where her relationship with Nancy Abramson led to her ouster in 1988.
She reacted with the "outlandish idea" to found Shir Tikvah with a handful of loyal congregants over pizza. "We sat around the lunch table and said, 'Let's start a temple and can you pass me another slice?'" The temple recently honored her with the title ­Founding Rabbi Emeritus.
Offner harbors no ill will toward her departure from Mount Zion; she attributes it to a "different time" when gays struggled for inclusion, in all segments of society, including religious life. She and Abramson remain partners and together they raised Abramson's son, Charlie Abramson, a 1998 Kenyon graduate.
Her ascendancy into a top leadership post reflects the strong stand Reform Judaism takes on the equality of all human beings and echoes the years-ago refrain from her Kenyon professor Rogan. Offner overcame the obstacles of gender and sexual orientation "by just being who I was," she said.
­-Dennis Fiely