Reviews
Books news
Four Jews on Parnassus: A Conversation
by Carl Djerassi '43 H'58
Columbia University Press

Carl Djerassi, who achieved fame as a chemist by helping to develop the oral contraceptive pill, now enjoys a second celebrity as a novelist and playwright. While much of his literary work has centered on the intersection of science and ethics, his newest book scales the peaks of philosophy, art, and religion.
In Four Jews on Parnassus: A Conversation, Djerassi imagines a series of posthumous dialogues between four great thinkers: Walter Benjamin, Theodor Adorno, Gershom Scholem, and Arnold Schönberg. All belonged, Djerassi notes, to "the peculiar subset of German and Austrian bourgeois Jews of the pre-World War II generation who often were more Berlinish or Viennese than their non-Jewish compatriots."
In depicting these four big thinkers, Djerassi displays a scholarly empathy for what motivated them—their struggles with social norms, cultural persecution, the seductions of fame and melancholy, and, most of all, the lofty intellectualism that guaranteed each a seat in the Western canon. Djerassi himself grew up a secular Jew in Vienna in the 1930s, and his ability to see through the eyes of these characters gives a compelling realism to dialogue that could have easily drifted into abstraction.
Djerassi convenes the conversations in a mythological after-world (Parnassus) but the biographical details are factual, if stretched for the sake of drama. Here, the four men and their wives discuss pivotal events in their lives as well as works of art and thought that influenced them, and even smoke some hashish. They tease one another (Benjamin calls Adorno "Porno Adorno") and confess to varying levels of passion or ambivalence about their identity as Jews.
The dialogues are accompanied by illustrations by the Viennese biochemist and photographer Gabriele Seethaler. Some are photographic collages that seem to echo the peripatetic nature of the dialogue, while others become subjects in the dialogue. Djerassi collaborates with Seethaler on some illustrations, including one series of riffs on Paul Klee.
In the end, Djerassi's rhetorical flight of fancy leads to some fascinating analysis—both psychological and cultural—of art, and of the flawed minds that produce genius.
—Traci Vogel
I Want to be Free
by Joseph Slate, illustrated by E.B. Lewis
G.P. Putnam's Sons

Joseph Slate, who taught art at Kenyon for thirty years, is, as he says on his Web site, "kiddie-famous," due mostly to the success of his 1996 book Miss Bindergarten Gets Ready for Kindergarten, illustrated by Ashley Wolff. The lighthearted tale stars a border collie as a kindergarten teacher in a classroom populated by little animals. It was a hit, and has spawned sequels.
In his newest page-turner for children, however, Slate takes on a serious subject: slavery. I Want to be Free tells the story of a runaway slave who breaks free from his chains but is unable to remove the iron ring around his leg. As he flees, he befriends a boy who has been left to die. The brief tale is written in simple singsong rhyme, with a repeating refrain that evokes field spirituals. Its simplicity, along with the somber, realistic mood of the watercolor illustrations by E.B. Lewis, make the surprise ending even more affecting.
In his author's note, Slate cites as his inspiration a Buddhist parable recounted in Rudyard Kipling's Kim, in which an old elephant is freed by a young elephant. In updating the tale, Slate keeps its allegorical gravity intact. This is a picture book that children will remember and cherish for years.
—T.V.
Perfect Power: How the Microgrid Revolution Will Unleash Cleaner, Greener, and More Abundant Energy
by Kurt Yeager '61 and Robert Galvin
McGraw Hill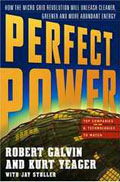 Electricity. It's invisible, yet it unites Americans every bit as much as apple pie. Our country's power grid, built fifty years ago, stands as a kind of modern miracle. Some 16,000 generating plants daily deliver wattage to millions of homes and businesses, sparking up our televisions, computers, toasters, espresso machines, cell phones, iPods, and even, in some homes, electric cars.
Herein lies the problem, however: as consumer technology continues to offer us more and more gadgets to light up our lives, the miracle grid feels the strain of our ultramodern lifestyle. Power outages ding American businesses to the tune of $150 billion yearly. In Perfect Power, authors Kurt Yeager '61 and Robert Galvin warn that our power delivery system has become dangerously flimsy. Much of it is still based on analog mechanics. Piecemeal and jury-rigged, it shows signs of cracking—just when we need it most.
Yeager, former president of the Electric Power Research Institute, teams up with former Motorola CEO Galvin to propose a solution. The answer is a series of "smart microgrids," which are electronically controlled to channel power where and when it's needed. These smaller, decentralized sources will enable entrepreneurs to plug their technology into the grid, encouraging innovation that might just green up the system, and, ideally, creating jobs that can't be off-shored.
Galvin and Yeager point out that much of the needed technology already exists; all that's required is the will. Perfect Power lays out a play for creating such an initiative, offering concrete examples such as the planned sustainable community of Mesa del Sol, New Mexico. The reinvention of the electrical system may not be the sexiest of political sirens, but Galvin and Yeager make it seem shockingly necessary.
—T.V.
The Bitter Road to Freedom: A New History of the Liberation of Europe
by William I. Hitchcock '86
Free Press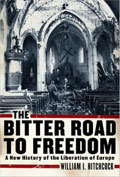 War-time struggles for territory entail destruction. When civilians are indifferent to who ultimately governs them, they pray only for the fighting to cease. But when the belligerence aims at unseating an oppressive regime, civilians, hoping for liberation, may feel a stake in its outcome. In this grand book about the 1944-46 period in Europe, Will Hitchcock demonstrates that the price paid by the liberated for their freedom was high, for liberation is always "a forcible, often brutal destruction of one kind of political order, and its replacement with another."
Hitchcock, who teaches history at Temple University, has no doubt that the right side won World War II. He has no doubt that, writ large, the Western allies hoped to treat civilians better than the Soviets did. But with the historian's instinct for wanting to tell the whole story, he demonstrates that the victory came at great cost to some of its presumed beneficiaries.
Consider this comparison. Under Nazi occupation, civilians endured the requisitioning of food and property, conscription of manpower, exposure to arbitrary arrest and death, and the psychological brutalization inherent in living in an ordered but unfree society. (Hitchcock knows that for Jews occupation was horrendously worse.) Then during the phase of liberation, civilians endured the wholesale destruction of homes and public buildings, calamitous loss of human lives, surges of refugees, the emergence of retributive justice, and often the total collapse of public order. Liberation was achieved, but at enormous cost.
By providing case studies of Normandy, Belgium, the Netherlands, Poland, and German death camps, Hitchcock shows that generals often laid plans in the full knowledge that they would kill many civilians; that troops—even the good-hearted GIs celebrated by Ernie Pyle—often killed and raped the civilians whom they liberated; and that authorities left Jewish refugees in squalor. Not surprisingly, he notes, these civilians often felt deeply conflicted toward their saviors.
With this book, a 2009 Pulitzer Prize finalist, Hitchcock reinforces his position as the finest of the younger American historians treating modern Europe.
—Reed Browning, professor emeritus of history
Old Kenyon and Lincoln's Kenyon Men
by Peter Dickson '69
Peter Dickson, a former analyst with the Central Intelligence Agency, has made a second career as an independent scholar unearthing information about his favorite subjects, including Christopher Columbus (and his racial heritage), William Shakespeare (and whoever wrote those plays), and Kenyon College. In the last instance, Dickson wants nothing less than to make the case that his alma mater is "America's most historic college."
In this new book, Dickson focuses on notable men, all of them either alumni of the College or otherwise affiliated with it, who played crucial roles in the life and presidential administration of Abraham Lincoln. Many of us already associate some of these figures with Kenyon—for example, Secretary of War Edwin McMasters Stanton of the Class of 1834 and Secretary of the Treasury Salmon Portland Chase, nephew of College founder Philander Chase and one of the bishop's students at his school in Worthington, Ohio.
Others, however, are known to fewer of us, men like David Davis of the Class of 1832, a U.S. senator and Supreme Court justice who earlier served as Lincoln's campaign manager, and Davis's cousin, Henry Winter Davis of the Class of 1837, a U.S. congressman who played a key role in keeping Maryland in the Union. Also here are Kenyon presidents Charles Pettit McIlvaine and Lorin Andrews, U.S. President Rutherford B. Hayes of the Class of 1842, and U.S. Supreme Court Justice Stanley Matthews of the Class of 1840, along with such supporting players as industrialist and philanthropist Andrew Carnegie and Columbus Delano, U.S. secretary of the interior, College trustee, and longtime Mount Vernon, Ohio, resident. For all, Dickson provides not only rich biographical material but also thorough reviews of their relationships with the Great Emancipator and his circle and with Kenyon.
There is much more here that will interest students of the College's history, including the author's analysis of Kenyon's decline in the years following the Civil War and its rebirth at the end of the nineteenth century. Dickson also provides a number of reproductions of historical photographs of his subjects.
Copies of Dickson's book can be purchased through the Kenyon Bookstore or by contacting the author at pwdbard@aol.com or 703-243-6641.
—Tom Stamp '73, College historian
A Gaggle of Governors
by Tim Newcomb '74 P'06,'08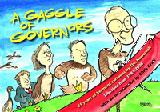 There's no civic incendiary device quite like a good political cartoon. Art, wit, and conceptual mischief come together and combust, yielding a sometimes wicked delight.
Tim Newcomb has the touch. Vermont newspaper readers have been enjoying his artful pokes and barbs since the early 1980s. Now the rest of us can share the pleasure, in a collection embracing twenty-five years' worth of cartooning in the Green Mountain State.
Newcomb, who earns his living mainly as a graphic designer, takes on issues both local and national. The Vermont political figures may not be familiar to most readers, but foibles like hypocrisy, demagoguery, egomania, and childish bickering transcend state boundaries. And then there are matters such as global warming, abortion, nuclear power, and civil unions, which all make an appearance here, as do Vermont figures on the national stage (like Howard Dean) and Vermont icons of national stature—for instance, a container of "Vermont Acid Syrup" (acid rain was adding trace amounts of pollutants to maple syrup).
The book also includes what journalist Chris Graff calls, in his introduction, "perhaps the most famous editorial cartoon in Vermont history." The Killington ski area was reportedly considering using highly treated wastewater to make snow, and Newcomb drew a picture of two ski-area workers riding the chairlift holding toilet plungers. "Uh-oh," says the lift attendant at the top, "looks like the snow-making machines are clogged again."
The resulting lawsuit went all the way to the state supreme court before being dismissed. Newcomb had hit his mark again.
Readers may order the book through the Web site of Newcomb's design firm, www.newcombstudios.com.
—Dan Laskin
Decision at Strasbourg: Ike's Strategic Mistake to Halt the Sixth Army Group at the Rhine in 1944
by David P. Colley '63
Naval Institute Press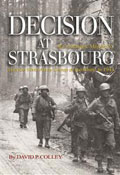 When it comes to World War II, history would seem to be carved in marble. But while turning-point campaigns such as the Normandy invasion loom large, the battles that weren't won—or sometimes, weren't even fought—are just as important to military strategists. In Decision at Strasbourg, journalist David P. Colley '63 offers a blow-by-blow account of a lost opportunity.
It was November 24, 1944, and Lieutenant General Jacob Devers was poised to send his men into Nazi Germany across the Rhine River. His Sixth Army Group was well-supplied, aggressive, and practiced; they had already routed the Germany Nineteenth Army in Alsace. The attack would be unexpected, and it would allow the Americans to maneuver behind the German First Army fighting General Patton. Devers was sure his plan would work, and he eagerly outlined it to Eisenhower—who promptly shot it down.
Colley, whose award-winning 2000 book The Road to Victory: The Untold Story of World War II's Red Ball Express detailed the role of the Army trucking operation that provided supplies to American troops, has an eye for humanizing detail. In Decision at Strasbourg, he paints a vivid picture of Devers, a clean-living man whose forthright manner didn't fit the world of politics. Throughout his push to the Rhine, Devers butted up against the favoritism shown to Patton. He riled Eisenhower, and their personal mutual animosity culminated in Eisenhower's fateful decision.
If Devers had been given permission to cross the Rhine, and his men had been successful, would it have changed the course of history? Colley makes a compelling case that it might have ended the war months earlier and saved thousands of lives. Students of military history will find Colley's book to be a fascinating journey through the political landscape of strategy and personality that shaped World War II.
—T.V.
Black Tupelo Country
by Doug Ramspeck '76
BkMk Press
The black tupelo grows throughout central Michigan, a humble, mid-sized tree that turns an astonishing red in autumn. This transformation serves as a convenient analogy for the work of Doug Ramspeck '76, whose short poems (most less than one page long) conjure up a landscape populated by plants and people as vivid as dreams.
Black Tupelo Country, which won the 2007 John Ciardi Prize for Poetry, collects work published in journals such as Seneca Review, Hunger Mountain, and New York Quarterly. Taken individually, the poems are things of beauty and mystery. In "Bottomlands Widow," for example, Ramspeck inhabits the mind of a childless woman who dreams that she finds a "girl child" in the entrails of a musk turtle: "Her dream child / was as small as a fist."
But it's as a whole that Black Tupelo Country gains its power. A "strange premonitory wind" blows through the collection, an incantation based on the seen and the invisible. "Something's coming," Ramspeck writes in "Black Water," "I can sense it / in the back-yard beech tree's leaves, / twitching like epileptics. / I can feel it in the dark runnel of cold seeping / through the screen mesh." Like nature's changes, Ramspeck's poetry feels inevitable and momentous.
—T.V.
Last Call
by Charles E. Rice
Charles Rice, the retired Kenyon professor of psychology known to his friends and fellow College Township Fire Department (CTFD) volunteers as Chuck, has written an immensely entertaining and informative history of the department over the past three decades.
Subtitled "Sweat, Tears, and Beers: Thirty Years at the Firehouse," Last Call takes readers inside the old and new firehouses, the fire trucks, and the ambulances, as well as the firefighting and emergency medical training regimens and the more subtle rites of initiation into the sometimes coeducational fraternity of CTFD volunteers. It also spends some memorable moments in Dorothy's Lunch, the late, lamented village watering hole where town and gown met on a regular basis from the 1950s through the 1970s and where they formed, according to Rice, the bonds of trust that allowed the CTFD to flourish.
Although Rice's focus is clearly on the history of the CTFD, he places its growth and development over recent decades into the context of volunteer fire departments everywhere. He also shows how responses to both local and national changes in expectations about the availability of emergency medical care helped to bring about the evolution of the volunteer fireman into the emergency medical technician.
Rice is a natural storyteller, with a gift for self-deprecation and for the wry observation about his colleagues and about the squad's adventures and occasional misadventures. He can make a reader laugh out loud on one page and bring a lump to his throat on the next. And Rice is a masterful sketcher of personalities, leaving readers with vivid pictures of such estimable characters as Chief Hobe Brown, Davey Clark, Bob "Grandpa" Gorsuch, and Harvey Matthews.
Not one to pull punches, Rice makes it clear that not every character in his book is a hero; in fact, he notes that some of the players' names have been changed to preserve their privacy (and, one might infer, to save them from embarrassment). But he also makes it clear that he appreciates the dedication displayed by his fellow firefighters and emergency medical personnel in attending to their crucial tasks, and that he wants his readers to share in that appreciation.
In the final pages, Rice takes us on a walk through Oak Grove Cemetery, the village's burying ground as opposed to the College's, although it, too, is the final resting place of many Kenyon-related people. There, in the northeast corner of Gambier, the author communes with the spirits of former colleagues and friends and remembers both those the CTFD saved and those it couldn't. It's a lovely bit of writing, and a fitting way in which to bring this book to a close.
Last Call is a wonderful piece of work, a stirring tribute to the men and women of the CTFD and an essential component of any personal library of College Township, Gambier, and Kenyon history. With this heartfelt memoir, Chuck Rice has given us an impressive addition to the literature of the Hill and its environs.
To order a copy of Last Call, contact the Kenyon Bookstore at 740-427-5822, or send an e-mail to books@xoxoxpress.com.
—T.S.
Color Me Fierce
by Nike Desis '05
Quirk Books
Coloring books are where we all learn to connect the dots of culture. Who can forget the thrill of giving Barbie blue hair, or completing the maze that led to Winnie the Pooh's honey pot? In Color Me Fierce, Nike Desis proudly colors outside the lines of this classic genre, spoofing fashion, celebrity obsession, and gender expectations to titillating effect.
This is not your toddler's coloring book. Text accompanying the pitch-perfect line drawings urges us to draw "a huge diamond" on Prima's finger (for she "aches to marry rich"), to make sure "Sally doesn't look like a boy" by coloring her in "this season's feminine colors," and to help Laura dodge another DUI charge by coloring her in "a classic all-black look or totally hip camo style."
Tongue firmly lodged in cheek, Desis skewers fads and fetishes. On one page, the reader is asked to choose which of three women is "the most successful." The answer is easy to discern: it's the one with the largest purse. Then there's the tri-fold page that allows Sasha to lose the "awkward weight" she's gained. Maybe the most fun, coloring-wise, is the page that asks you to "mix" a hangover drink for poor regretful Shelley.
Color Me Fierce includes six "glamorous" crayons in such fashionable colors as "Gold-Digger Yellow" and "Red Haute," so there's no excuse for not "making it work," as Project Runway's Tim Gunn would say. Carry on!
—T.V.
Gambier, Ohio 43022
(740) 427-5158