Alumni Digest
Kenyon goes to Washington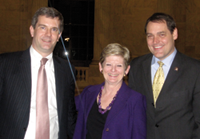 Approximately three hundred Washington, D.C.-area alumni and parents came to the U.S. Capitol on Thursday, February 26, to celebrate the College's new Center for the Study of American Democracy. On hand were President S. Georgia Nugent (pictured, center) and Center director John Fortier (left). Ohio Senator Sherrod Brown and U.S. Representative Zack Space '83 (right) also joined the crowd.
The winners
The votes have been counted, and the newest Alumni Council members and alumni trustees have been named. Henry Steck '57, Marguerite Bruce Doctor '85, Marshall Chapin '94, and Margaret Scavotto '02 were elected to Alumni Council, while Dave Cannon '73 and Mary Kay Karzas '75 will serve as new alumni trustees.
Alumni Council invites nominations for the next elections, to take place in spring 2010. Council members serve nonrenewable three-year terms, and alumni trustees serve nonrenewable four-year terms. You may nominate a friend, a classmate, or yourself for either post. All ­nominations receive careful consideration by Alumni Council.
Send your nominations and supporting information to Lisa Schott '80, director of alumni and parent programs, Kenyon College, Gambier, Ohio 43022-9623 or by e-mail to schottl@kenyon.edu by July 31, 2009.
Philadelphia lawyers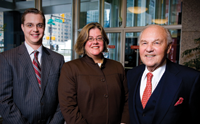 Three generations of Kenyon alumni are represented at Fox Rothschild LLP, a top Philadelphia law firm. Despite their common connection to ­Kenyon, the three landed at the firm independently of one another. David Colvin '98, an ­associate in the litigation department, attended law school at ­Villanova ­University. He works closely with Stephanie Resnick '81, the firmwide chair of the litigation department, who also attended law school at ­Villanova. ­Joseph Smukler '49 joined Fox Rothschild in 1956 as one of the firm's first twelve attorneys after graduating from Harvard Law School and Oxford ­University. He moved to ­another firm and then returned in 1993 to Fox ­Rothschild, where he serves in the litigation department.
Alumnus leads squash team to nationals
nder the leadership of coach John Knepper '62 and co-advisor Doug Givens, managing director of the Philander Chase Corporation at the College, Kenyon's club squash team took top honors in the Serues ­Division of the CSA National Championships held at Princeton University on February 22. The team advanced past the University of Vermont and Vassar ­College, defeating Purdue University 8-1 to take the top spot in the championship.
The squash team was founded in 2006 as a club sport, and Knepper volunteered to be co-advisor and coach. For his service, Knepper received the William A. Long Mem­or­ial Award at the College's 2009 Honors Day convocation in April. "The team seems to be greatly energized to set new and higher goals for the future," he says, noting that the team's success has created a buzz on campus. Knepper hopes to schedule several matches with East Coast squash programs in the coming season.
Alumni who are interested in following the squash team can check out the team's Web site, available through www.kenyon.edu, or e-mail Knepper at kneps@aol.com to be placed on a mailing list for team ­updates. Knepper is hoping to organize matches between the College team and alumni teams and hopes to hear from alumni interested in participating in future matches.
Across the generations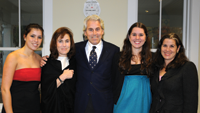 Two generations of Kenyon friends posed for this photograph at the dedication of O'Connor House, the new home for Kenyon's interdisciplinary departments, on October 24, 2008. Pamela Hoehn-Saric '80 (second from left) joined close friends Rod O'Connor '80 (center) and Lisa Marrano O'Connor '80 (right), accompanied by Hoehn-Saric's daughter Gabriella '10 (left) and her good friend, the O'Connors' daughter Meredith '07 (second from right).