Not in my Job Description: Radio Nights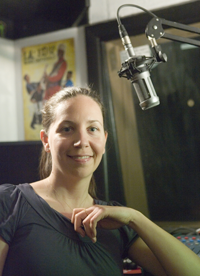 A weekly excursion into the sounds of indie rock on WKCO took a slight detour for a lesson in grammar one February evening.
Zoë Kontes, disc jockey and assistant professor of classics, could not abide the title of the otherwise appealing Mazes song "I Have Laid in the Darkness of Doubt." "Clearly incorrect English," she objected, in a smooth, on-air purr. This is Radio Kenyon, at 91.9 FM, where cutting-edge music cannot be separated from the education at hand.
Also known as DJ Zoë K, at least to her students, Kontes is one of a handful of faculty members who channel their inner spinner at Kenyon, splitting air time with student jockeys. "It's fun and a way to learn about music and be involved in it," she said as Wolf Parade's "Language City" leapt on air from her laptop iTunes collection. "The whole point of this is sharing the music with other people."
Others who share include Paul Gebhardt, assistant professor of German, who covers the musical waterfront on the Eclectic Hour, and the spousal team of Eliza J. Ablovatski (DJ EJ), assistant professor of history, and Sasha Ablovatski, Information Services system manager.
German native Gebhardt leans heavily on popular music from his home country, diving into hip hop by the likes of Die Fantastischen Vier, early 90s pop including the witty, topical Die Prinzen, and "German punk, garage rock, anything," he said. He also roams the American and world musical landscapes, mostly mining alternative rock but dipping as well into country.
"I use the music to tell little stories," he said. Gephardt quipped that his on-air commentary about music is sometimes jumbled. "But do radio hosts have to be coherent? It's a nice break from being 'the professor,' whom people expect to make sense."
Around the musical corner, the Ablovatskis run the East Bloc Party, specializing in Eastern European pop, rock, and folk tunes-music that is influenced as much by its traditional roots (read: accordion) as it is by the West.
"I enjoy it because it gives us a structured reason to think about music and listen to our CDs," Eliza said. "It would be nice if there were more people who liked this music. Maybe we can turn somebody on to it."
Sasha, a native of Belarus who grew up listening to "standard Soviet fare," provides "local knowledge" as well as technical support in the studio. Many shows have a theme, and the tunes range from Serbian turbo folk, to Turkish Army bands, to Gypsy music. "People in the surrounding area do listen to the show," Sasha said. "They like WKCO for being different. We get a couple of calls during the show. It makes them feel happy."
Eliza was on the air as a student at Amherst College, a path familiar to Kontes, who broke in as a student disc jockey at Bowdoin College.
Kontes calls her show Dalliance, after the Wedding Present song that opens every two-hour set. "The guitar part at the beginning, it's a nice way to start my show," she said. "It's a lot of heavy guitar, cool guitar. And (David Gedge) writes devastatingly beautiful love songs, but set to this very rocking guitar. It's that combination that I really like."
That anchor song is the only repeater for Kontes, who, like other jockeys, invests considerable time lining up each set before entering the snug, retro studio in the deep reaches of Farr Hall.
This year the station is experimenting with streaming on the Web, expanding its audience from Knox County to the known universe. No matter how far flung, new listeners will know they've found Kenyon by the lessons they learn.
-Mark Ellis