Nayef Samhat Appointed Provost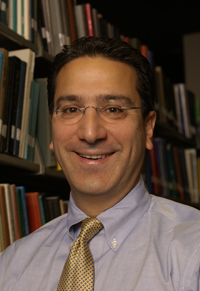 President S. Georgia Nugent has announced the appointment of Nayef H. Samhat to the position of provost. Samhat is the Frank B. and Virginia B. Hower Associate Professor of Government and International Studies and associate dean at Centre College in Kentucky. He will begin work at Kenyon on July 1.
Samhat, who has taught at Centre since 1996, specializes in international relations theory and international political economy. He also studies the politics of the Middle East, particularly international relations in the Middle East.
Samhat succeeds Howard Sacks, who became interim provost shortly after Gregory Spaid '68 announced in the spring of 2008 that he would step down from the position of provost and return to the classroom.
In his roles as program chair, division chair, and associate dean at Centre, Samhat has gained wide experience in program and curriculum development, faculty support and evaluation, and financial management. As a teacher and scholar, he has designed innovative courses and curricula, built an impressive record of publications and presentations, and been dedicated to the development of a global perspective.
"His background crosses national boundaries as well as professional domains, and his interests cross disciplinary fields," Nugent said. "I believe he is a great match for Kenyon at this moment, and I'm very excited about professor Samhat joining us here at the College."
Before joining the Centre faculty, Samhat taught at Elmhurst College and was a graduate assistant at Northwestern University. Samhat holds a B.A. in international affairs from George Washington University's School of International and Public Affairs, a master's degree in international affairs from Columbia University, and a Ph.D. in political science from Northwestern.