Henry Toutain Named Dean of Students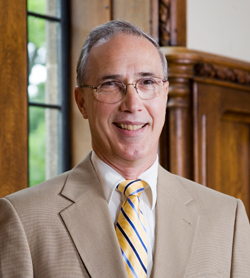 Henry P. Toutain, the long-time dean of students at Gustavus Adolphus College and a student-life professional with more than thirty years of experience, has become the new dean of students at Kenyon.
Toutain assumed his duties on July 15. He replaces Tammy Gocial, who left for a post at Maryville University in St. Louis, Missouri.
Toutain served as vice president for student affairs and dean of students at Gustavus Adolphus, in St. Peter, Minnesota, since 1990. Like Kenyon, Gustavus is a private liberal arts college that prides itself on a strong sense of community along with academic rigor and close faculty-student relationships.
Toutain, who was chosen in a national search that drew eighty-nine applications, said that he was impressed by the "distinctive depth and breadth of community at Kenyon."
Prior to becoming the dean at Gustavus, Toutain served for two years as the dean of students at Fordham University in New York City. From 1983 to 1988, he held student-life positions at Bucknell University in Lewisburg, Pennsylvania, including associate dean of student life and director of residential life. Earlier, he served as associate director of student housing at the University of Chicago.
In addition to a Ph.D. in comparative literature from the University of Chicago, he holds a certificate in educational management from Harvard University. He received a B.A. in English from Providence College in Providence, Rhode Island.
Toutain (pronounced too-TANE) and his wife, Bev, a speech pathologist, have two children: a son who is pursuing graduate work and a daughter who recently started her sophomore year at college.