Saving Children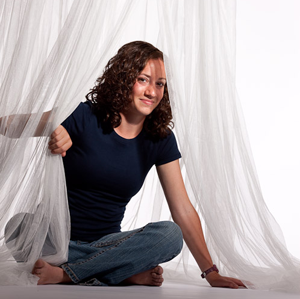 The money raised by Naomi Blaushild '10 for mosquito nets will save lives in Ghana, and the money raised for scholarships will save minds.
Blaushild, a political science major from Pittsburgh, Pennsylvania, spent the second semester of her junior year at the University of Ghana in Legon. A volunteer internship took her twice a week to a primary school in Nima, a sprawling, impoverished, migrant suburb of Accra.
She refused to be daunted by the conditions around her, including a school roof in need of repair, open sewers, and children who are easy targets for deadly malaria-bearing mosquitoes. She organized the AMIS (Anani Memorial International School) Friends, created a Web site (http://amisfriends.weebly.com), and raised $2,663 through donations. The money bought 635 insect-repellant nets and funded scholarships for five students through the 2009-10 school year. The nets were shared with students at Becky Day Care and the Greater Care Nursery Centre in Nima. Blaushild also organized classes in malaria prevention, health, and nutrition.
"Sometimes it's really frustrating to not be able to fix everything," she said. "The problems seem so overwhelming, but I've learned that every little thing counts. We gave these kids a little more protection against malaria. One net might cover three or four kids sleeping close together on the ground, on mats."
With her Kenyon colleagues, Blaushild is now organizing a "sponsor-a-student" project. They hope to raise money for use by the Anani Memorial International School as student tuition. Donations may be sent to AMIS Friends, care of Naomi Blaushild, P.O. Box 942, Gambier, Ohio 43022. Checks should be made out to Naomi Blaushild, noting the donation to AMIS Friends.
"We want to sponsor as many children as we can," she said. "I know these kids. I played with them, taught them, held their hands, sang with them. Africa is real to me."