The Hot Sheet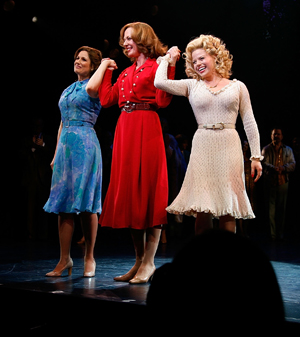 Kenyon on Broadway. Allison Janney '82 wore a Kenyon hoodie in her Tony-nominated performance in 9 to 5. Many alumni reported watching Janney with delight and pride. Go Allison! That's the "way to make a livin'."
Park It for the Planet. Kenyon celebrated planet Earth with a Week of Sustainability that included the effort "Park it for the Planet." Students and employees earned prizes for carpooling or putting aside their cars altogether in favor of biking or walking. Score one for the environment, zero for the maniacal Gambier squirrels who had fewer cars to dodge.
Joan and the iPhone. Biology professor Joan Slonczewski's textbook, Microbiology: An Evolving Science, was spotted in a television commercial for Apple's iPhone. Calling all students: last year your biggest worry was college applications, this year it's phone applications.
Pie. AVI, the College's food service, sponsored a pie-throwing contest to benefit Relay for Life. Volunteers were asked to sign up for thirty-minute time slots to take a pie in the face. Using dough to raise dough? A slice of genius.
Potter Mania. The Office of Housing and Residential Life and community advisors sponsored a Harry Potter Day complete with a themed dinner, readings from the books, a costume contest, and a trivia game. The event was almost derailed in the planning stage when Kenyon faculty began a fierce debate about whether the course "Defense Against the Dark Arts" was appropriate for a liberal arts curriculum.
Toilet Drama. Students staged a play with a title too racy to mention in the Bulletin. The advertising was so provocative some posters were removed and either destroyed or saved as souvenirs. The real kicker? The play was staged in the men's restroom of the dance studio. Classy!
Cheaper Hot Dogs. Gambier's grocery store offered a "Village Market Stimulus Package" by rolling back the price of its popular wieners from 75 cents to 50 cents. A clever idea, and one that gives us the rare chance to use the words wiener, package, and stimulus in the same sentence.
Wild Gambier. The Brown Family Environmental Center started "Wild Gambier", a new series of nature talks to help students and residents appreciate local wildlife and plants. And that's about as wild as things get in rural Ohio.
Kenyon on Facebook. Kenyon's Facebook page has almost three thousand fans. Sign up today to receive news feeds about your alma mater.