Alumni Digest
Alumni of Color Collective
A new Alumni Council initiative seeks to unite alumni of color for a range of opportunities. Spearheaded by council members April Yvonne Garrett '92 and Robert King '97, the Alumni of Color Collective is intended to serve several goals:
Engender participation by alumni of color in Alumni Council and in regional alumni associations.
Act as a resource for administrative offices at the college, including academics, admissions, athletics, and career development.
Compile a comprehensive listing of people of color among alumni, faculty, and staff of the College.
Plan a reunion for alumni of color, tentatively set for 2011.
The collective kicked off in February 2009 with a dinner sponsored by Kenyon's Office of Admissions. Several members of the collective joined faculty members and prospective students for the dinner, which was followed by a discussion on the experience of people of color at Kenyon.
The kickoff was an example of the kinds of interactions Garrett and King hope to achieve through the collective. "We formed the collective to improve the quality and quantity of relationships all people of color have with the College," says Garrett. "The project has the enthusiastic support of the administration, faculty, staff, and Alumni Council."
All alumni of color born in the United States, as well as members of the student groups ADELANTE, Asian Awareness Club, Association of Japanese and American Students, Black Student Union, Brothers United, Chinese Culture Club, Multicultural Council, NIA, SAMOSA, and the Snowden Multicultural Center programming board, are invited to join the collective. The Alumni Council is formulating plans for a similar collective for international alumni. For more information, contact Robert King at king@alumni.kenyon.edu or April Yvonne Garrett at april@alumni.kenyon.edu.
Reconnecting Backstage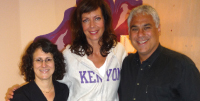 In August, Michael Zorek '82 and his wife, Shelly Friedland, went to see the Broadway show 9 to 5, starring Zorek's classmate Allison Janney '82. After the show, Zorek and Friedland visited Janney backstage and had their photo taken with her as she wore her Kenyon sweatshirt. "She looked terrific and was the hit of the show!" says Zorek.
Annual Report Moves Online
To conserve resources, both financial and environmental, the 2009 Alumni Bulletin Annual Report issue is available only online. See the names of individuals and organizations who contributed to Kenyon during the previous fiscal year (July 1-June 30) on the Web at www.kenyon.edu/annualreport.
Honoring Athletes, Past and Present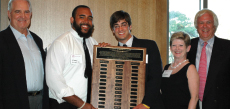 A new award honors both the legacy of an alumnus and the athletic prowess of current students. The Robert C. Weidenkopf awards in football and baseball were presented on April 25, 2009, to two Kenyon seniors. Yancy Edwards '09 (photo, second from left), captain of the football team, and Geoff Bollier '09 (center), a member of the baseball team, were the inaugural recipients of the award.
The award is presented to the football player and baseball player who best exemplify the competitive spirit and leadership abilities of Robert C. Weidenkopf '61. Weidenkopf was named most valuable player in both sports during his years at Kenyon. The award was begun by Hutch Hodgson '61, (photo, far left) Joe Adkins '63 (far right), and a number of Weidenkopf's teammates who attended the presentation. President S. Georgia Nugent joined in honoring the inaugural winners.
Writing to Heal

How can writing a personal journal improve your daily life? Sheppard Kominars '53 was on campus on April 16, 2009, to share his insights into the powers of journal writing. The author of Write For Life: Healing Body, Mind, and Spirit through Journal Writing, Kominars discussed his more than fifty years of regular journal writing and the healing powers associated with that activity. Kominars' talk followed his gift of a large number of his books to the College community. His visit was sponsored by the College's Wellness Initiative.