Reviews
A Slant of Light
By Galbraith Miller Crump
XOXOX Press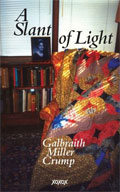 It is impossible for me to be objective when reviewing A Slant of Light, as it will be impossible for many to be objective when reading this beautiful and moving memoir. Galbraith and Joan Crump spent twenty-five years in Gambier—Gal taught English from 1965 to 1990, edited the Kenyon Review from 1983-88, and frequently ran the Kenyon-Exeter Program—and the couple touched a good many lives.
A Slant of Light recounts the painful last year in the life Joan Amanda Lee Crump, who died of ovarian cancer in 2006. "Inevitably past events from our lives together intruded on the narrative," writes Crump. "I was after all describing a person whose life was rich and meaningful well beyond the hard times with which it came to an end." The result is a complex, multi-layered narrative, weaving together stories from the distant past, the couple's marriage, the year of Joan's passing, and the period of writing and mourning—even anticipation of the future.
A marvelous story-teller, Crump regales us with vivid memories and delightful vignettes. We hear about Joan and Gal skinny-dipping at Cabot's Landing near Cape Breton. And there's a vacation in Lucca, Italy, when, at a family meal in a hole-in-the-wall restaurant, Crump, as pater familias, was proudly presented with the local delicacy, a dish of goat's testicles. In order to save the family honor, Joan quickly switches the plates and polishes off the specialty herself without a murmur.
We hear, as well, about family tragedies, such as the terrible accidents befalling their sons. What shines through is Joan's immense strength, as well as her capacity, in moments of the most extreme grief, to convey strength to others.
While painting a precise portrait of Joan—capturing her spunk and humor, her courage and zest for life—Crump also focuses, unerringly and honestly, on himself. After decades of togetherness and a final year of great tenderness as well as great sadness, he finds himself alone, at times almost lost. Through interminable days of grief, he seeks solace in memory, writing, and literature.
" ur lives," he writes, "turn on the node of fiction as we try to make sense of events and dreams and things that might have been, shaping them as best we can from the dust of our being."
Joan Crump was a beautiful person who was loved by many within the Kenyon community and beyond. This elegant book presents her character and sparkling personality to a wider public so that, as Crump writes, "... the example of her life and the mourning of those who loved her may help others to cope with the trauma of being left behind."
—Marc Millon '77
No Winners Here Tonight: Race, Politics, and Geography in One of the Country's Busiest Death Penalty States
By Andrew Welsh-Huggins '83
Ohio University Press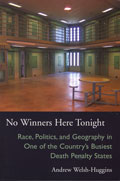 Three soldiers driven to desertion under a stern commanding officer are believed to be the first people executed, under a judicial process, in what would become the state of Ohio. That was in 1792, and the bodies were still warm when news of a pardon arrived.
The anecdote sets the tone in No Winners Here Tonight, a skillfully reported history of the death penalty in Ohio, from the early days of public spectacle to what are now "quiet, aseptic events" viewed behind glass. Much of the focus is on the 1980s and beyond, a time during which the state, having crafted a law that passed modern Constitutional muster, became a leader in executions.
Welsh-Huggins's balance, dispassionate style, and eye for detail reflect his grounding in the old-school, objective journalism he practices on the job as an Associated Press reporter assigned to the Columbus, Ohio, bureau. He provides the national context and scouts the local political terrain. Above all, he relishes a good story, concisely told, and the book takes us through a horrific roll call of crimes and punishments, including the 2000 kidnaping and murder of Kenyon student Emily Murray. The case is notable for its racial overtones (the victim was white, her killer black), the budget burden of the trial on a rural Ohio county, and the Murray family's resistance to the death sentence in which the trial culminated.
Welsh-Huggins shows that the death penalty remains arbitrarily applied, entangling only a fraction of those who might be eligible and tainted by the variables of geography, expense, human error, plea bargain, and race. Nevertheless, proponents of execution, well in the majority, believe that the death penalty is a just act and a useful deterrent.
The book is rich with footnotes and appendices, perhaps a little lean on first-hand interviews. Welsh-Huggins did some of the footwork while working on a project for the Associated Press, during which he examined 1,936 death-penalty indictments over twenty-two years starting with the 1981 passage of the state's current law. The law was changed in 1996 to permit life imprisonment without parole, an option that has thinned the death-row ranks.
Racial disparity is a key issue. It's a cruel irony that the justice system, disproportionately populated by black inmates, is easier on black defendants if they kill other black people. Killers of white victims are far more likely to land on death row.
For all the seriousness of the issue at hand, Welsh-Huggins is expert at mining nuggets of gallows humor. One inmate, an hour before his execution, reached for a smoke and remarked, "I think I'll have one more cigarette and then quit."
—Mark Ellis
You've Come a Long Way Baby: Women, Politics, and Popular Culture
Edited by Lilly J. Goren '87
University of Kentucky Press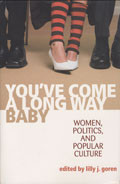 If the 1968 advertising campaign for Virginia Slims cigarettes that popularized the phrase "You've come a long way, baby" was, in retrospect, smarmy and manipulative, it did point to one unavoidable fact: politics is inextricable from consumer culture. In her anthology of essays by the same name, editor Lilly J. Goren gathers the latest thinkers of the movement, Third Wave feminists, to sift through television sitcoms like Ugly Betty and untangle movements like the "Stitch-n-Bitch" knitting phenomenon.
The result is a densely footnoted, academically rigorous collection of essays that rewards the reader with real insight into issues regularly obscured by faddishness. Rachel Henry Currans-Sheehan writes about the history of women in rock 'n' roll and the establishment of the all-women concert festival Lilith Fair in reaction to commercial radio's refusal to play two songs with female singers back-to-back, among other things.
Linda Horwitz and Holly Swyers dissect the role of female presidents in the television shows Commander in Chief and Battlestar Galactica, pointing out that both women attain the position only after their precursors die—in other words, "the question the shows are really asking is: what might happen if we end up with a female president?"
And Cecilia Konchar Farr counterbalances the critical dismissal of "chick lit" by redefining the genre as "part of a broad, diverse literary tradition, one that can recognize and celebrate commercial viability, one that can relish a good romance plot, one that, speaking in a compelling fictional voice, can offer up character as alive as the people we meet every day."
Quoting Catherine Orr in her introduction, Goren reminds us that feminism is "governed not by academic discourse, but by 'talk show audiences and Cosmo readers' who experience feminism, and femininity, through popular texts." You've Come a Long Way, Baby shows us that feminist criticism can break down and understand these texts with humor and insight—and in that sense, we really have come a long way.
—T.V.
Death by Chocolate
by Zachary Nowak '99
Green Door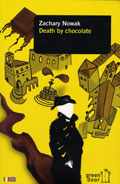 In 2007 the picturesque Italian university city of Perugia was shaken by the murder of a British exchange student. As English-speaking journalists flooded in, expatriate Zachary Nowak emerged as a natural source and translator. He'd been living there for years, as a bon vivant and guidebook author.
Nowak made news briefly himself when it came to light that he had been about to publish his first book, a mystery to be titled Murder in Perugia, on the very day that news of the killing broke. In light of the real-life tragedy, publication of the book was delayed, and it was retitled Peril in Perugia.
Now, Nowak follows up with a new mystery, Death by Chocolate. Perugia again takes center stage, this time as the scene of the murder of a famous chocolate critic. When James Pace's body is discovered during the city's Chokofest, suspects abound and two unlikely detectives emerge: American expatriate Zachary Nowak and Compagno ("Comrade") Paolo, a fiftyish, balding anti-capitalist who also happens to be a fan of Sherlock Holmes.
With some investigation, and some bumbling luck, our heroes uncover a publishing-world kerfuffle, long-simmering tension between artisanal chocolate makers and corporate behemoths, and, finally, the murderer. Nowak's lighthearted prose and surprise ending turn Death by Chocolate into a sweet escapist read.
And you can dip into Italian, since the edition is bilingual.
—T.V.
Shadeland
by Andrew Grace '01
Ohio State University Press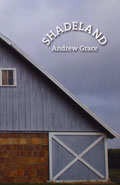 Andrew Grace grew up on a farm in Illinois called Shadeland. In his newest book of poetry, he returns to his pastoral roots, plowing through heritage and memory and uncovering plenty of lumps in the loam. Not all is bucolic in these poems, which create a compelling narrative of growth, loss, and myth.
This is "land/ I inherited," Grace writes in "Curse." "Pitiable how inexhaustible / mist and pig smell are to me." Scent and weather permeate the poems; in "Z," the narrator eulogizes his father, who "died on the floor of a machine shed on March 4th, 2004, the wind of Illinois in his lungs." "The wind from Illinois is the duration of loss," the poem continues. "The wind from Illinois is a plastic curtain to collapse behind."
In "Silo," there is a "Citronella-reek in the stray dog necropolis, center chamber / of an unused silo, few stars shining," and in "Achilles in the Heartland," the narrators "live on the plains, discuss / the unseen, know the tang of methamphetamine / being cooked close."
There is hope to be found, too, though, in work. "A good mechanic," for example, "is a connoisseur of the ongoing / conviction that an answer / is forthcoming" ("Them Men"). In the end, as Grace writes in "Letter Sent Back on a Crane's Heel," "We are human: humiliation slicks our hair, mercy steers us."
—T.V.
Gambier, Ohio 43022
(740) 427-5158