Best in the Nation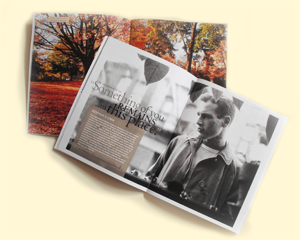 The Bulletin has been named the best college magazine in the nation. The Council for the Advancement and Support of Education (CASE) has awarded the Bulletin the Robert Sibley Magazine of the Year award. The coveted award is given annually to the most exemplary collegiate general interest, research, or special interest magazine.
The Bulletin competed against 151 entries from both large research institutions and smaller colleges. In the final round, it went up against the magazines of Princeton and Stanford universities and King's College London. Last year's Sibley was given to Dartmouth College. The Newsweek magazine editors judging the competition consider writing, editing, design, print quality, and creative use of resources. According to the judges, the Bulletin is "firing on all cylinders."
The judges said the magazine "plays skillfully on two elements of the small liberal arts college experience shared by the College's alumni—a deep emotional attachment to Kenyon's educational ethos and an abiding sense of place. By combining past and present on a palette of carefully calibrated stories, the magazine mixes deep tones of memory with a bright reassurance that present-day Kenyon, though it may be different in many ways from what alumni experienced, is inextricable from its storied past."
Kenyon submitted two issues for judging: the fall 2008 issue and the winter 2009 issue. Judges praised feature stories for fulfilling the magazine's stated goal of conveying Kenyon's "beauty, fun, quirkiness, and academic rigor" in addition to the College's reputation as "a small place to think big thoughts." Among the features were the experience of George Williams '06 with Teach for America, a story on post-traumatic stress disorder, a "perfectly calibrated" feature remembering Paul Newman '49, and the feature commemorating the sixtieth anniversary of the Old Kenyon fire.
The Bulletin is edited by Shawn Presley and deputy editors Amy Blumenthal and Dan Laskin. Mark Ellis is the associate editor. The magazine is designed by Aldrich Design and Adam Gilson.
CASE is a leading professional organization in the fields of education fundraising, communications, and alumni relations.