Into the Wild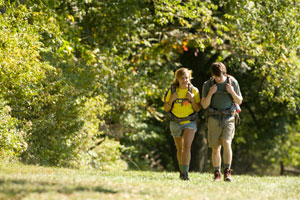 Kenyon's Outdoors Club is back on the trail.
The student group, which has not been particularly active in recent years, is seeing new interest, and this past fall it revived the tradition of treating first-years to a pre-orientation backpacking trip. Twelve new students, along with four upperclass leaders and a staff member, hiked and rafted in the Monongahela National Forest in West Virginia.
"It was a fantastic trip," said David Heithaus, the facility manager of the Brown Family Environmental Center, who served as staff leader. Joining him as leaders were Charlie Halsted '10, Amanda Harris '10, Greg Rosenbaum '10, and Sophie Tsairis '11.
After several days of back-packing, the group headed to the New River Gorge for a day of whitewater rafting. It had been more than a decade since the club's last pre-orientation trip.
Tsairis, an international studies major from York Harbor, Maine, said the club has given her some remarkable experiences. For example, she recalled seeing wild horses during a spring-break trip to Death Valley in 2008. "We had just gone down into a canyon to set up tents," she said. "The horses were on top of a hill, so we were looking up at them." Ten to fifteen animals, silhouetted against the sky, paced back and forth for more than half an hour.