Joining the Top Ranks
Five faculty members recently earned promotion to full professor, the highest faculty rank at the College and a status reflecting a sustained record of excellence in teaching, scholarship or artistic engagement, and campus citizenship. At its October meeting, the Board of Trustees approved the promotions, which take effect on July 1. The five are:

Jeffrey Bowman
of the history faculty
Bowman, who came to the College in 1997 and currently serves as chair of the faculty, is a specialist in history of the late ancient and medieval periods, focusing on topics such as law and conflict in the premodern world. He previously held the John B. McCoy/Banc One Distinguished Teaching Chair.

Christopher Gillen
of the biology faculty
A member of the faculty since 1997 and a 2002 winner of the Trustee Teaching Excellence Award, Gillen studies salt transport in animals, using a variety of approaches. He is also collaborating with others at Kenyon in a project investigating the relationship between metabolism and the body size of organisms.

Carolin Hahnemann
of the classics faculty
Hahnemann, who arrived at Kenyon in 1998, focuses her teaching on Greek, Latin, and classical drama, literature, and mythology. Her research interests center on the fragmentary tragedies of Aeschylus and Sophocles. Hahnemann is a 2000 winner of the Trustee Teaching Excellence Award.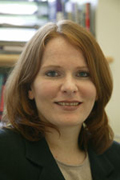 Judy Holdener
of the mathematics faculty
A faculty member since 1997, Holdener won both a Trustee Teaching Excellence Award and a Robert J. Tomsich Science Award in 2003. In 2008, she won a distinguished teaching award from the Mathematical Association of America. Holdener, who specializes in algebra and number theory, currently serves as the John B. McCoy/Banc One Distinguished Teaching Professor.

Jonathan Tazewell
of the drama faculty
Tazewell, who joined the faculty in 1997, holds the Thomas S. Turgeon Professorship of Drama. A 1984 Kenyon graduate, he has been active in promoting film studies at the College. Tazewell won the Trustee Teaching Excellence Award in 2004. In addition to regularly directing College theatrical productions, he has been active in theater companies in Columbus, Ohio, and Philadelphia, Pennsylvania.