Recent Books by Kenyon Authors
Opening Lines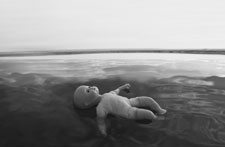 For two days the water rose. Everything floated—cars, couches, broken tables from the po'boy joint at the corner, a child's abandoned doll. Black water poured into the houses through broken doors and shattered windows, swept out into the street, now a slow churning river clogged with chunks of wood, plastic lawn chairs, and the bloated corpses of dogs.
But the houses hid their dead, floating lazily in flooded rooms. Eyes open, hands outflung, the dead gazed down from the ceiling, as if surprised to find their world suddenly turned on its head ...
Soon the streets glittered with broken glass, which caught the flames of burning houses so that the shadows moving along the streets seemed to walk on fire.
Once you start Down in the Flood, you don't stop reading. Kenneth Abel (the pseudonym for Professor of English Sergei Lobanov-Rostovsky) brings us the third crime thriller featuring former assistant district attorney Danny Chaisson. The novel, published by Minotaur Books, is set in Katrina-drowned New Orleans, which comes to life as vividly as the story's characters.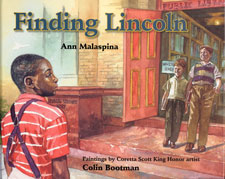 "It was 1951 in Alabama, and Louis could play all his piano scales and roller-skate backwards. Still he couldn't borrow a book from the main library." In Finding Lincoln (Albert Whitman & Company), Ann Malaspina '78 tells a quietly moving story in spare, graceful prose. An end note sketches the history of segregation in public libraries. Malaspina has written seventeen books for young people. A volume on the Underground Railroad is due out this winter.
Quotable
"My first drafts are usually the places where I sprawl out in as much detail as is necessary to figure out what drew me to the material in the first place; I often start with a single character, or place, or event, and have to find and follow the trail that will lead to an actual story. I've slowly gotten better at stepping away from those first drafts and returning to them with a reader's eyes, looking for all the slow spots, the dull spots, the vague spots, the head-scratch-raised-eyebrow-inducing spots. I've become more ruthless with my words, making sure every phrase is paying its rent."
—Caitlin Horrocks '02, in the "Author Spotlight" Web page for The Pen/O. Henry Prize Stories 2009 (Anchor). Horrocks's "This Is Not Your City" was one of twenty stories chosen for the prestigious collection. Her own collection, also called This Is Not Your City, will be published by Sarabande Books in 2011.
Plaudits
P.F. Kluge '64, Kenyon's writer-in-residence, won the 2009 Ohioana Book Award for Fiction for his novel Gone Tomorrow (Overlook Press). The award was made by the Ohioana Library Association, which recognizes the creative accomplishments of Ohioans.
Muslims in America: A Short History (Oxford University Press), by Edward E. Curtis IV '93, was named one of the top 100 books of 2009 by Publishers Weekly. Curtis teaches religious studies at Indiana University-Purdue University Indianapolis.
More Kenyon Authors
Michael Barich, assistant professor of classics (translator), Argonautica (Xoxox Press). Barich translates Valerius Flaccus, whose first-century epic poem in Latin tells the old Greek tale of Jason and the Argonauts.
Sarah Blick, associate professor of art history, and John Pepple (editors), Intrepid Witness to History: Essays in Honor of Boris Blick (Author House). A tribute to Blick's late father, a remarkable man of wide interests and great generosity, who saw extensive combat in World War II before becoming an historian.
Paul A. Cummins '80, My Soul Magnifies the Lord: Mary after the Crucifixion (Kindle Books). Available only for the Kindle, this novel imagines the life of Mary after the death of Jesus.
Katherine Hedeen, associate professor of Spanish (translator), and Víctor Rodríguez-Núñez, associate professor of Spanish (translator), The Poems of Sidney West, by Juan Gelman (Salt Publishing); and Journal with No Subject, by Juan Calzadilla (Salt Publishing). Both Gelman, who is Argentine, and Calzadilla, who is Venezuelan, are important contemporary poets.
Kathleen Kirk '79, Broken Sonnets (Finishing Line Press). A lovely chapbook of poems that emerge from, and transform, domestic moments.
Glenn McNair, associate professor of history, Criminal Injustice: Slaves and Free Blacks in Georgia's Criminal Justice System (University of Virginia Press). Delving into hundreds of capital cases, McNair traces the evolution of Georgia's legal culture.
Royal W. Rhodes, the Donald L. Rogan Professor of Religious Studies, Animalia (Catbird Press). In a limited edition of just eighty hand-printed books, Rhodes presents sharply observed, often playful sonnets on crows, owls, swans, and other beasts. Terry Schupbach-Gordon has illustrated the poems with striking woodcuts that take life from textured Hiromi paper.
Debbie Robins '78, Shovel It! Kick-Ass Advice to Turn Life's Crap into the Peace and Happiness You Deserve (Alyson Books). A career coach with roots in the entertainment industry, Robins draws on her own experiences, with humor and down-to-earth-realism, to provide tips for getting past life's many stresses.
Howard L. Sacks, professor of sociology (co-author), Catching Stories: A Practical Guide to Oral History (Ohio University Press). Why do oral history? How to plan and conduct interviews, archive and disseminate the results? What about ethical and legal issues? Sacks and his four co-authors draw on their experience running Kenyon's oral-history summer institute.
Linda Smolak, professor emerita of psychology (co-editor), Body Image, Eating Disorders, and Obesity in Youth: Assessment, Prevention, and Treatment (American Psychological Association). This second edition assimilates the extensive research done since the original book was published in 2001.
Todd White (Todd Weiner '01), The Mustard Seed: A Story of Life and Faith (Dog Ear Publishing). Writing under a pseudonym, Weiner tells the story of a new college graduate who struggles with the classic issues—identity, meaning, spirituality.