Alumni Digest
Ballots Arriving Soon
Check your mailbox and your inbox at the end of February for your official Alumni Council and alumni trustee ballots. Once again, you have the choice to vote by e-mail or by paper. The Office of Alumni and Parent Programs will ensure that only one ballot per person will be counted.
Members of Alumni Council meet at Kenyon three times each year to discuss programs and issues that directly affect the College and its alumni. This group provides direct feedback to the Kenyon administration regarding alumni issues. Council members serve a nonrenewable three-year term.
The Kenyon College Board of Trustees meets at Kenyon twice each year to provide strategic direction to the College as it seeks to fulfill its mission to be a distinctive liberal arts college of the highest quality. Alumni trustees serve a nonrenewable four-year term.
Vying for the three open positions on Alumni Council are Kathleen Birck '00, Courtney Carlson '96, Joe Gioia '77, Harley Henry '59, Gay Garth Legg '73 P'05,'09, and Larae Bush Schraeder '97.
The candidates for the two alumni trustee positions are Rich Alper '71, Pierce Scranton '68 H'09 P'97, Lisa Coney Shively '78, and Tim Stautberg '85.
All candidates are nominated by Alumni Council.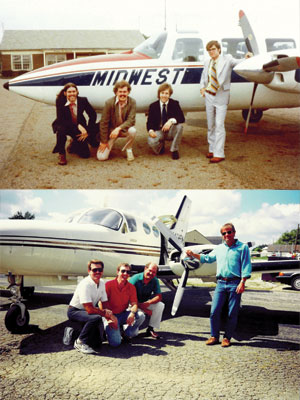 Fly Boys Forever
A group of pilots from the end of the Kenyon Flying Club era (see "Fly Boys," Fall 2009 Bulletin) has met many times over the years to relive their Kenyon flying days. In the photo at left, flying club members (from left) Andy Bourland '73, Larry Church '72, Dale Eisenman '71, and Randy Navarre '73 are gathered at the Knox County Airport in Mount Vernon, Ohio, to celebrate the graduation of the Class of 1973. They recreated their pose nearly thirty years later (photo, right) during one of their many flying reunions. Today, Bourland is a corporate pilot, Navarre is a captain for a major airline, Eisenman operates an aircraft for his commercial real estate business, and Church, an attorney, flies whenever possible.
Bulletin Board
Save the Date
April 19-21
Post-50th Reunion
June 4-6
Reunion Weekend. Registration is online only, but registration forms will be mailed by request. Details will arrive in your mailbox in early spring.
Regional Association Gatherings
Thursday, February 11
Cleveland, with a production of Ain't Misbehavin' at the Cleveland Playhouse, preceded by a talk with playwright Murray Horwitz '70 H'92
Thursday, March 18
St. Louis, with a talk by Professor of Political Science Fred Baumann
Wednesday, April 14
Cincinnati, with a talk by Professor of Humanities Timothy Shutt
Wednesday, April 14
Nashville, with a talk by Professor Emeritus of Anthropology Kenneth Smail
Tuesday, April 27
San Francisco, with a talk by Writer-in-Residence P.F. Kluge '64
Thursday, April 29
Los Angeles, with a talk by Writer-in-Residence P.F. Kluge '64
Tuesday, May 4
Seattle, with a talk by Writer-in Residence P.F. Kluge '64
Tuesday, May 18
Washington, D.C., with a talk by Associate Professor of Sociology Marla Kohlman
Attention KCDC Alumni
Alumni members of the Kenyon College Dance and Dramatic Club are invited to a special KCDC reunion during Reunion Weekend 2010. All KCDC alumni known to the Office of Alumni and Parent Programs received a letter about this reunion in November 2009. However, many KCDC alumni are not known to the alumni office. If you were a member of KCDC but did not receive a letter, the alumni office needs to add your name to its list of KCDC alumni. Even if you do not plan to attend the upcoming reunion, please contact Patty Bower in the Office of Alumni and Parent Programs at bowerp@kenyon.edu or 740-427-5147 so that your membership in KCDC can be noted.
BSU Alumni Return to Campus
Alumni members of the College's Black Student Union returned to campus on Saturday, November 7, 2009, for a reunion. Thirty alumni gathered with current students and faculty members, joining one another for dinner to finish the day.