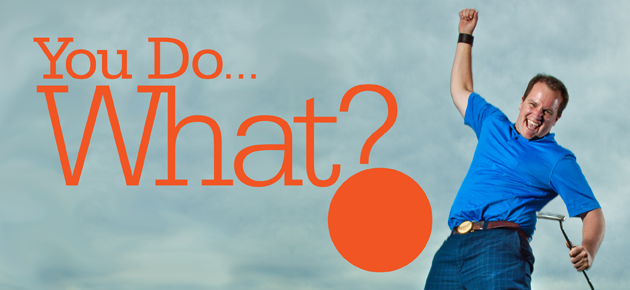 "So, what do you do?" we ask at a cocktail party or reunion, and every now and then the answer surprises us.
You're a lion keeper?
A professional poker player?
You do ... what? It's easy to think of the future lawyers, doctors, teachers, chief cooks, and bottlewashers you met at Kenyon.
Now meet a small sampling of alums whose time on the Hill led to careers off the beaten path.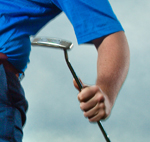 Andy Heroy '04 spends more time with Bob than his girlfriend—not that there's anything wrong with that.

Bob is a robot and plays a pivotal role in Heroy's job as a research test specialist for Cleveland Golf, a leader in the wedge market.

An engineering marvel, Bob can mimic an endless array of golf swings. One of Heroy's tasks is to keep Bob happy (i.e., calibrated), so he doesn't misfire a ball into a laboratory wall.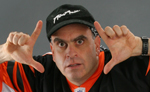 Matthew Bloomfield '82didn't expect to become a rapper.

But he grew up with a mother who wrote and performed rhyming poems for every family occasion, and a father whose strong singing voice he inherited. While studying world music at the Naropa Institute and Mandarin at Cornell University, he came up with the idea of writing songs to order. Today he's the self-styled "Rapping Professor," based in Shanghai, writing and performing commissioned "gift raps" for private and corporate clients.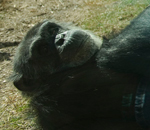 She's a keeper. No, really.

Sleeping lions, stress-free chimps, and a great conversation starter all come with Becky Kloepfer's job at the North Carolina Zoo.

"My job is a great conversation starter at parties," says Kloepfer '98. "Most people say 'cool' when I tell them what I do, but it doesn't take long to see they have no clue what my job entails. Then they begin asking questions."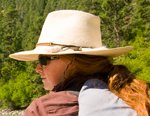 In her five years on the job, Brooke Johnson '04 has dunked her clients into the water only once.

That's a pretty good track record for a river guide.

Steering a thirty-foot raft-and keeping it from tipping-is just one of the challenges Johnson faces as a guide for two rafting companies on rivers in California and Idaho. She has to juggle everything from cooking to building makeshift kitchens and bathrooms.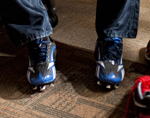 The shoes on the feet of scrambling National Football League quarterback Vince Young start in the hands of Mike Glancy '02.

The "avid sports guy" and former all-conference lacrosse midfielder specializes in the aesthetic design of shoes with cleats for baseball, football, lacrosse, soccer, and, now and then, cricket. Glancy turns a hand-drawn sketch into a three-dimensional image on a computer screen, based on input from athletes, the Reebok marketing crew, and engineers who fuss about anatomical correctness.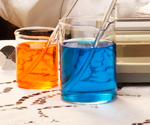 Finding the Right Note

Only a handful of experts concoct the vast array of "taste sensations" on our supermarket shelves. One of them has a Kenyon degree.

For Rosanne Erdal '95, a typical assignment might come in the form of a spoonful of powder-mix for a strawberry-flavored drink.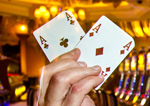 Jeffrey Burdsall M'64 plays a mixture of poker games and played stud poker almost every day for nine years, putting in as many as sixty hours a week.

He ignores table games and eschews sports betting. "I am a professional gambler. I get a thrill out of it. I've had a storybook life."