A Door to the Past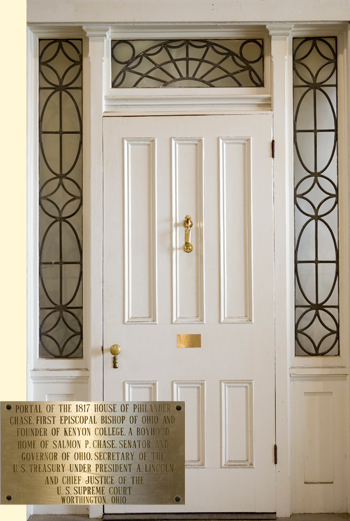 When the contracting company Ross Builders and Design purchased a home to renovate in the Clintonville section of Columbus, Ohio, they stumbled across a door to Kenyon's past. The door had belonged to Kenyon founder Philander Chase. When discovered by Ross Builders in the entrance to a pantry, it bore a plaque noting its pedigree.
Chase moved to Worthington, Ohio, not far from Clintonville, in the early 1800s. He operated his seminary in Worthington from 1824 to 1828, before moving to Kenyon's present-day home in Knox County.
According to the Columbus Dispatch, his old house in Worthington eventually became a convent on the grounds of St. Michael Catholic Church. In 1967, the house was demolished-but not before the door and other fixtures were removed and auctioned.
"The original (Kenyon) students at his house would have passed in and out of this door," College historian Tom Stamp '73 told the Dispatch. "We don't have a whole lot of physical remembrances of Bishop Chase." While the door is in Kenyon storage, Stamp hopes the College will one day be able to incorporate it in a building.